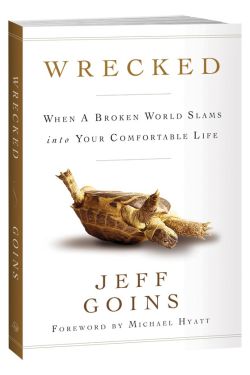 Today we're reviewing, discussing, and giving away a copy of the brand new book Wrecked by Jeff Goins. Keep reading to learn how you can win a copy.
Wrecked is a book about the life we're afraid to live—one full of radical sacrifice and selfless service. It's a look at how we discover fulfillment in the least likely of places.
There have been a number of books written in recent years that inspire and challenge people (Christians specifically) to get out of their comfort zone and live a life of risk and sacrifice – The Barbarian Way by Erwin McManus, Crazy Love by Francis Chan, Radical by David Platt come to mind. I believe we have an epidemic of safe, comfortable "Christians" in the U.S. So, even if Wrecked offered nothing new, I would enjoy it, appreciate it and recommend it.
But Jeff Goins does provide a unique, insightful perspective through Wrecked.
Jeff has lived his own adventures – doing some of his undergrad work in Spain, touring as guitarist in a band, hanging out with some homeless people in Nashville, and creating a popular blog. But he's also married, works a "regular job," and has a new baby.
While many "get out of your comfort zone books" have been all about not settling, in Wrecked, Jeff not only challenges readers to "get wrecked" by experiencing firsthand the challenges of those who live with hardship (poverty, illness, injustice), but he addresses the challenge unique to this Millennial Generation of "getting wrecked" through commitment.
It's this weird, messy mix of risk and commitment from a 20-something millennial writer who understands both which makes Wrecked a good book that will challenge you.
Discussion
Do you agree with the premise of Wrecked that the most fulfilling life is lived by not pursuing our own comfort but through self-sacrifice and service?
Have you been Wrecked by stepping out of your comfort zone and stepped into the brokenness of this world and found that you couldn't go back to living a self-centered, comfortable life?   If so, what was that like?
If you've had a Wrecked experience, what happened afterwards?  Did you find a way to  address the brokenness you experienced?
Win a Copy of Wrecked 
If you'd like a shot at winning a copy Wrecked, help spread the word about the book…
Tweet this post or share it on Facebook
Post a comment in which you address one of the discussion questions.  Include your Twitter username or link to your FB profile  in the comment as well.
At 4 PM Eastern on Thursday August 2, I'll select the winner.
$158 of Gifts
If you buy a copy of Wrecked this week, Jeff will give you 6 additional gifts worth $158.  These gifts include an electronic copy of Wrecked, an audio version, a 10 week action plan and more!  If you win the copy I'm giving away, you'll get these gifts as well.
So, please comment, tweet, share.  And of course you can  buy a copy of Wrecked right now – for yourself, a friend, your whole small group. The more the merrier!