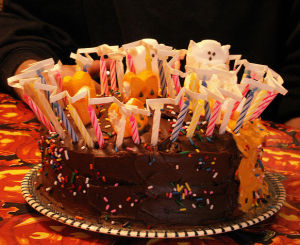 Today is my birthday – number 41. Woohoo!  OK, I'll be honest the number kind of makes me cringe.
Several family members have asked me what I'd like for my birthday.  It's a tough question because I don't lack anything.  I am remarkably blessed with a loving wife, 3 amazing children, lots of friends, work that is both challenging and meaningful, and most importantly I have hope and a future thanks to the amazing grace of God.
I think the best gift anyone could give me would be the opportunity to serve them, to make a difference.  It would really make this day meaningful for me.  So…
Help me celebrate my birthday by giving me the opportunity to serve you
How can I serve you today?
What question can I answer for you?
What favor can I do for you?
What can I give to you?
What can I do to make this day better or brighter for you?
If you're looking for ideas and examples, here's a look back at Servibration I, Servibration II, & Servibration III.
I suppose there's one other thing you could do: share this post on Facebook, Twitter and Google+ so I have  the opportunity to help even more people.  Thanks!