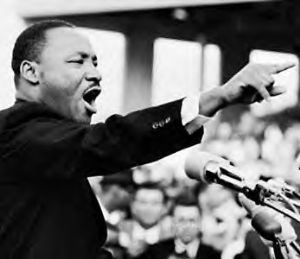 As we celebrate the life of Dr. Martin Luther King Jr. today, let us remind ourselves of some of the things he said.  But let us not stop there for though we have made much progress since Dr. King's lifetime, his dream has not been fully realized.  Let us continue to stand up again injustice and for justice, against violence and for peace, against hate and for love.
May these 53 statements made by Dr. Martin Luther King Jr. inspire you to action.
Injustice anywhere is a threat to justice everywhere.
Forgiveness is not an occasional act, it is a constant attitude.
We shall overcome because the arc of the moral universe is long, but it bends towards justice.
Darkness cannot drive out darkness, only light can do that. Hate cannot drive out hate, only love can do that.
I believe that unarmed truth and unconditional love will have the final word in reality.
Make a career of humanity. Commit yourself to the noble struggle for equal rights. You will make a greater person of yourself, a greater nation of your country, and a finer world to live in.
I have the audacity to believe that peoples everywhere can have three meals a day for their bodies, education and culture for their minds, and dignity, equality and freedom for their spirits.
The ultimate measure of a man is not where he stands in moments of comfort and convenience, but where he stands at times of challenge and controversy.
We are determined here in Montgomery to work and fight until justice runs 'down like water, and righteousness like a mighty stream.'
True peace is not merely the absence of tension: it is the presence of justice.
Freedom is never voluntarily given by the oppressor; it must be demanded by the oppressed.
The soft-minded man always fears change. He feels security in the status quo, and he has an almost morbid fear of the new. For him, the greatest pain is the pain of a new idea.
Faith is taking that first step even when you don't see the whole staircase.
All labor that uplifts humanity has dignity and importance and should be undertaken with painstaking excellence.
Now is the time to lift our national policy from the quicksand of racial injustice to the solid rock of human dignity.
The church must be reminded that it is not the master or the servant of the state, but rather the conscience of the state.
Love is somehow the key that unlocks the door which leads to ultimate reality.
A genuine leader is not a searcher for consensus but a molder of consensus.
A nation or civilization that continues to produce soft-minded men purchases its own spiritual death on the installment plan.
All progress is precarious, and the solution of one problem brings us face to face with another problem.
An individual has not started living until he can rise above the narrow confines of his individualistic concerns to the broader concerns of all humanity.
An individual who breaks a law that conscience tells him is unjust, and who willingly accepts the penalty of imprisonment in order to arouse the conscience of the community over its injustice, is in reality expressing the highest respect for the law.
At the center of non-violence stands the principle of love.
Change does not roll in on the wheels of inevitability, but comes through continuous struggle.
Every man must decide whether he will walk in the light of creative altruism or in the darkness of destructive selfishness.
He who passively accepts evil is as much involved in it as he who helps to perpetrate it. He who accepts evil without protesting against it is really cooperating with it.
History will have to record that the greatest tragedy of this period of social transition was not the strident clamor of the bad people, but the appalling silence of the good people.
I am not interested in power for power's sake, but I'm interested in power that is moral, that is right and that is good.
I have decided to stick with love. Hate is too great a burden to bear.
If a man hasn't discovered something that he will die for, he isn't fit to live.
If physical death is the price that I must pay to free my white brothers and sisters from a permanent death of the spirit, then nothing can be more redemptive.
It is not enough to say we must not wage war. It is necessary to love peace and sacrifice for it.
Life's most persistent and urgent question is, 'What are you doing for others?'
Love is the only force capable of transforming an enemy into friend.
Man must evolve for all human conflict a method which rejects revenge, aggression and retaliation. The foundation of such a method is love.
The means we use must be as pure as the ends we seek.
Never succumb to the temptation of bitterness.
Nonviolence is a powerful and just weapon. which cuts without wounding and ennobles the man who wields it. It is a sword that heals.
Nonviolence means avoiding not only external physical violence but also internal violence of spirit. You not only refuse to shoot a man, but you refuse to hate him.
Our scientific power has outrun our spiritual power. We have guided missiles and misguided men.
Rarely do we find men who willingly engage in hard, solid thinking. There is an almost universal quest for easy answers and half-baked solutions. Nothing pains some people more than having to think.
The time is always right to do the right thing.
The function of education is to teach one to think intensively and to think critically. Intelligence plus character – that is the goal of true education.
The hope of a secure and livable world lies with disciplined nonconformists who are dedicated to justice, peace and brotherhood.
The quality, not the longevity, of one's life is what is important.
The question is not whether we will be extremists, but what kind of extremists we will be… The nation and the world are in dire need of creative extremists.
War is a poor chisel to carve out tomorrow.
We may have all come on different ships, but we're in the same boat now.
We must build dikes of courage to hold back the flood of fear.
He who is devoid of the power to forgive is devoid of the power to love.
We must learn to live together as brothers or perish together as fools.
I have a dream that one day this nation will rise up and live out the true meaning of its creed: 'We hold these truths to be self-evident that all men are created equal.'… I have a dream that my four little children will one day live in a nation where they will not be judged by the color of their skin but by the content of their character.
From every mountainside, let freedom ring. When we let freedom ring, when we let it ring from every village and every hamlet, from every state and every city, we will be able to speed up that day when all of God's children, black men and white men, Jews and Gentiles, Protestants and Catholics, will be able to join hands and sing in the words of the old Negro spiritual, 'Free at last! Free at last! Thank God Almighty, we are free at last!
Which is the most meaningful to you? What are you doing to continue working towards Dr. King's dream?