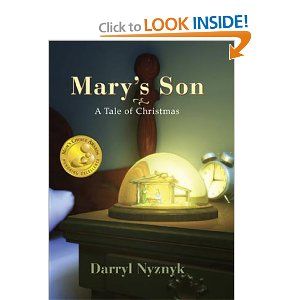 Today we're reviewing, discussing, and giving away a copy of Mary's Son by Darryl Nyznyk. Keep reading to learn how you can win a free copy.
Mary's Son is a modern-day Christmas tale first told by author Darryl Nyznyk in front of the fireplace during his daughter's sleep-over birthday party. It's the story of two angry young people bent on their own destruction, who are visited by a mysterious old man just before Christmas. He tries in vain to help them until, in desperation, he whisks them back in time to witness the first Christmas. They learn the real meaning of both Christmas and their own lives.
It's a heart-warming, family friendly story along the lines of Miracle on 34th Street, It's a Wonderful Life and Charles Dickens A Christmas Carol. It's no stretch to imagine it being made into a movie some day.
Get a Free Book
If you'd like a free copy of Mary's Son, all you have to do is
Retweet this post or share it on Facebook, and
Post a comment answering the question: what's your favorite Christmas story of all time? (If it's the original story of Christmas found in chapter 2 of Luke in the bible, let us know your second favorite story as well,) Be sure to include in your comment the Facebook or Twitter profile where you shared the link, too.
One person who has shared and commented will be selected around 5 PM Eastern time Wed. 12/7 to receive a free copy.
Of course, you can also buy a copy of Mary's Son on Amazon. And for a limited time the Kindle edition is only $0.99!