Tampa Bay Rays Show Us One Essential Element in Every Great Comeback Story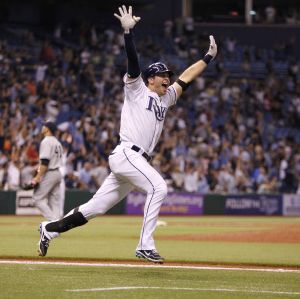 Last night the Tampa Bay Rays completed what may be the greatest comeback in sports history.
Not only did they come from 9 games back at the beginning of September to make the Major League Baseball playoffs – something no team in history had ever done before, but they came back from being down 7-0 in the bottom of the 8th inning and 7-6 with 2 outs in the bottom of the 9th to beat the Yankees.
It's an amazing story!
But think back to where the Rays were a month ago 9 games out and given up for dead. Everyone was telling them their season was over. Think back to when they were going into the bottom of the 8th losing 7-0. People were saying, "It was a great effort and they got so close, but it's over now."
There is one ominous yet essential ingredient in every great comeback story: a terrible beginning.
Every comeback story, by definition begins with something to come back from, terrible circumstances with a seemingly insurmountable obstacle.
The next time you find yourself in terrible circumstances – a marriage that seems broken beyond repair, an addiction that you can't overcome, a financial situation that's about to collapse, a spiritual dead end – instead of thinking it's hopeless, remember…
You may be on the verge of one of the greatest comeback stories of all time.
Don't give up until the final out has been made.
If you need some inspiration, watch and cheer…