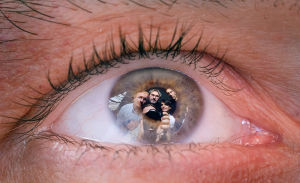 This past Saturday we had a heck of a storm pass through our neighborhood. Strong winds blew the pouring rain nearly sideways, and then the power went out. Our family went to a friend's birthday party that evening and when we got back the power was still out. So, we went to bed in a very warm, humid house. We were startled awake sometime after midnight by a loud noise as the power came back on, but that was not the end of the drama.
At 4 AM the power went out again with a flash and a bang. A few minutes later a fire truck pulled up in front of my neighbors' house. A branch of the big oak tree in their back yard was touching the power lines and on fire. The fire eventually burned itself out, and then a crew from the power company showed up with chainsaws. They trimmed tree branches for what seemed like forever, but was probably about an hour. When they were done they turned the power for our street back on. And then the sun came up.
I was pretty tired. And I could have been annoyed and frustrated. Our power goes out in storms several times a year. Why doesn't the power company bury the power lines? Why don't they keep the trees trimmed?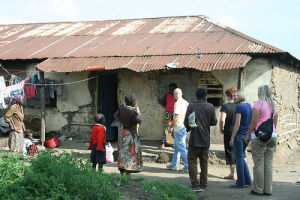 However…
Last month in Kenya I met Benard Msandu. I call him Pastor Ben, because he used to be a pastor of a church. As pastor he saw people in his church in need of food or emergency medical care and he started helping some of them in any way he could. There were a lot of poor and sick people in his church and he couldn't help everyone. He didn't want to be accused of favoritism and create division within the church, so he resigned. Now he spends all day every day helping people who are hungry, taking people with AIDS and other maladies to the doctors and hospitals, and taking children into his home who have been abused or abandoned. He's married and has two young children and does all of this with no official job or regular source of income. He relies on donations and gifts, and trusts God to provide. (You can read more about the day we spent with Pastor Ben in Kenya)
A few days before our power outage I saw a message from Ben on Facebook. There's a neighborhood in his community which could get electricity for the very first time, but they haven't been able to put together the $300 they need to make that happen.
Focus on the 0.1% or the 99.9%?
In light of that, I can handle being without power for a night. Instead of being upset about the 0.1% of the time we're without power, I'm grateful we have electricity 99.9% of the time. I'm grateful that when the power goes out, the power company has a crew on the scene within an hour, even at 4 AM on a Sunday morning. I'm grateful we have firemen that come out in the middle of the night.
Serving in the midst of extreme poverty changed my perspective. The memories and my ongoing friendships and involvement constantly remind me of how blessed I am.
Not only that, but trying to fix the 0.1% problems in my life doesn't seem nearly as important as helping with the 99.9% needs others have.
No matter how rough you have it…
…there's always plenty to be thankful for. There's always someone who has it rougher than you. And you don't have to fly to Africa to find them. In my town and yours there are people who are unemployed and on the brink of losing their house. There are 40 year old husbands and fathers who have just been diagnosed with cancer. There are single moms who can't keep up with the demands of work, kids, chores, etc. There are homeless people who have given up hope. There are children who have never heard anyone say, "I love you" or "You can do it!"
Find them. Get to know them. Help them.
It will powerfully change your perspective and your life.
How has serving those less fortunate than you changed your perspective and focus?  What do you need to do to further change your perspective and focus?