Be a Leader not a Manager!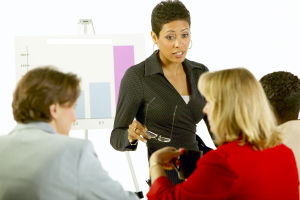 Yesterday I published a blog post on Christian Web Trends titled, Are You a Communications Manager or a Communications Leader?
The post was motivated by my observation that many organizations are subpar at communication because the people making the budget and personnel decisions don't really understand what it takes to communicate effectively online and the people doing the communicating feel like they are stuck following orders using the resources, people, and time given to them from "above."
Of course it's not just communications people who find themselves in that situation. Everyone can. (Unless you are Supreme Leader of a sovereign monarchy)
The question is, are you going to view your job (or volunteer position) as that of a manager or a leader?
Are you going to ask your boss, "What do you want me to do?" Or are you going to ask her, "This is what I think we should do. Can we move forward?"
Are you going to simply accept the budget, staff, tools, time, and authority you've been given and try to make the most of it? Or do you see bigger possibilities, and are you willing to try to convince those around you that there's a better way?
Nobody knows both the inefficiencies and the opportunities your position holds better than you.  To just play the cards you've been dealt will only frustrate you and is not in the best interest of your organization either.
If your boss (or board) really wants to succeed, he doesn't want you to simply follow orders either. He wants you to solve problems, be innovative, and recognize new opportunities. He want you to lead.
Let me leave you with this excerpt by leadership expert Warren Bennis
The manager administers and the leader innovates.
The manager maintains, the leader develops.
The manager accepts the status quo; the leader is always questioning and challenging.
The manager focuses on systems and structure; the leader focuses on people.
The manager relies on control; the leader inspires trust.
The manager has a short range view; the leader has a long range perspective.
The manager asks 'how' and 'when'; the leader asks 'what' and 'why'.
The manager imitates; the leader originates.
The manager is a copy, the leader is an original.
Where do you see problems that no one is addressing? Opportunities that no one is jumping on?  Where do you need to step up and lead?