2011 Global Leadership Summit Session 5 Notes: Bill Hybels #wcagls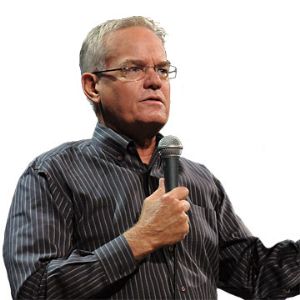 Relentless learner. Driven to action. Deep, personal sacrifice. These characteristics have propelled Bill Hybels through 35 years of ever-shifting challenges as senior pastor of Willow Creek Community Church and Chairman of the Board at Willow Creek Association. The author of more than two dozen books including current bestseller The Power of a Whisper, Hybels trains Christian leaders world-wide—and consistently pushes himself to get better as a leader, every year. Single-minded in his passion for the local church, he issues hard-hitting truths that challenge people to take their organizations to the next level. Hybels' successes—and mistakes—bring high-definition clarity to the things truly worthy of your leadership time and investment.
Notes
Early in his life Jeremiah got a tough calling.
Nothing goes well. Nothing feels successful to Jeremiah. Nobody will listen or repent, they just want him to shut up.
Then he gets beaten, tied up and put at the city gates.
Jeremiah gives God a piece of his mind. Jeremiah 20.
Jeremiah tries again, gets throw into a muddy cistern (a pit).
Their enemy eventually comes in and takes the people captive.  Nothing ever worked out for Jeremiah and he wrote the book of Lamentations.
Yet, in that he writes, "Great is thy faithfulness"
Bill: I'm no noble guy. I had an easy calling. I led a church in one of the affluent parts of one of the affluent cities.
I have had very little true hardship as I've carried out what God's asked me to carry out.
If you watch one episode of the evening news you know our world is broken, and it's getting worse.
The fixes are not going to be easy assignments or short term.
God is looking for some strong-shouldered leaders who say, 'If there's a tough assignment any where in the world, I'm available. I don't have to have all the earthly success in the package."
What's the hardest part of leading World Vision? Rich Stearns: "Having your heart broken again and again and again."
??? goes to Somalia to report on situation. Was kidnapped, held & abused for 15 months. After she finally got out, she went back to serve the children of Somalia
I stand in awe of leaders who get tough assignments.
Some of you have businesses that are rocking. God may not be calling you to leave your business, but he may be calling you to step into a situation in your community.
Have you listened? Do you have the courage to do that?
Jeremiah was asked once by God to go buy a jar. Gather as many people around you as you can. Tell them if they don't stop mistreating the poor, I'm going to smash their country like this jar and then smash the jar.
Jeremiah obeyed & the people around him grabbed him and beat him within an inch of his life.
When you came into this session everyone was given a piece of clay (piece of pottery), if you're serious about things of God and the condition of this world and take a pen and write something on it.
I don't know a single leader who ever regretted taking a tough assignment from God. They get to the end of their lives and they have memories and stories.
(I can't help but think when I get to heaven I'm going to feel like such a wuss when I meet the people who have had the really tough assignments.)
What was your biggest takeaway(s) from Bill Hybel's talk? What action step(s) are you going to take as a result?