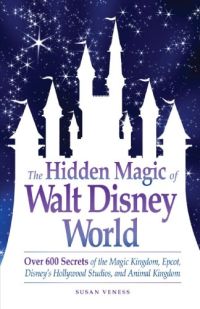 Live Intentionally is all about inspiring each of us to make the most of every situation, which includes a trip to Disney World. That's my best attempt to make this book review sound relevant to this blog.
The truth is, I had the opportunity to get a free copy of The Hidden Magic of Walt Disney World by Susan Veness from Thomas Nelson's in exchange for a review, and since I only live 90 miles from Disney, I jumped on it. Since this is not really on topic for Live Intentionally, I'll keep it short.
The book has the sub-title, "Over 600 secrets of the Magic Kingdom, Epcot, Disney's Hollywood Studios, and Animal Kingdom." I expected those "secrets" to include way to save time or experience special opportunities the average Disney visitor isn't aware of. A handful of the secrets are along those lines. But the majority of the "secrets" are how many of the names and numbers on various attractions are tributes to the imagineers who created them.
For example, on Splash Mountain, just as you begin the final climb before the big drop at the end, there's a gopher who pops his head out and yells "F S U!" the alma mater of one of the imagineers who worked on the ride.
So, I was a little disappointed with the book, but if you're going to drop $100 for a day at one of the Disney parks or $1600 for a family of 4 to visit all for Orlando area parks, the enjoyment you'll get out of seeing all the little "secrets" the author points out is probably worth the $10 you spend on this book.
As long as we're talking about Disney… are you a Disney fan? Got any secrets to getting the most out of the theme parks?