Fighting the Current of "Life as Usual"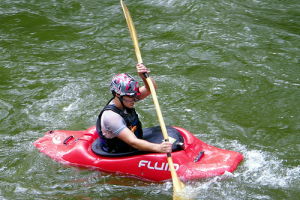 This is the first Monday I've been in my office since June – 5 weeks ago. During those five weeks I spent 2 potentially life-changing weeks in Kenya serving at the Springs of Hope children's home. I spent 9 potentially life-changing days on a retreat/vacation in the North Georgia mountains. I read 5 books including 3 which are… yes, potentially life-changing.
But now that I'm back in my office, I face the current of "life as usual." Everything here wants to pull me in the same direction I was going before – email, meetings, routines, schedules. The lives and expectations of everyone around me.
River and ocean currents are great when they flow in the direction you want to go. But when you want to change course, it takes a lot of intentionality and effort to break free of the current.
People have a lot of "life-changing experiences" that don't end up changing their life at all, because they continue to go with the flow and stay in the current of their existing life.
If you want your life to change – I mean really change – you have to fight hard to break free of the momentum of the current. Know what you want to do differently & be determined to do it!
Perhaps the biggest challenge is knowing you want things to be different but not knowing exactly what that means or how. That's where I am right now. Maybe you are too. My next step? To figure out my next step.
For me, that means scheduling time to be alone – to pray, to think, to journal. And not allowing the current of the busyness of "life as usual" to sweep me down stream.
Have you had a "life changing experience" that has yet to change your life? Post a comment & stand with me against the current of life as usual. What's prompted you to want to change? What's your next step? If your next step is to figure out your next step, how are you doing to do that?
[image by runneralan2004]