20 Quotes and Advice for Dads on Father's Day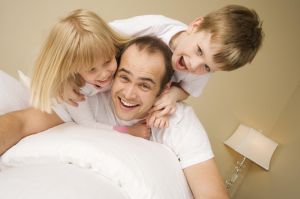 Happy Father's Day to all of you who are dads! And big props to those who have stepped in to become a father to the fatherless through adoption, becoming a foster parent, or taking in a grandchild!
Being a dad is a huge responsibility but also a huge opportunity as dads get to lead and shape their children to have the character and skills to not only make a good life for themselves but to make the world a better place.
Yesterday I asked people through Twitter for their favorite quotes and advice for and about fatherhood.  I received a lot of great responses, some of them wise, some of them funny.
Quotes for Fathers
This is going to hurt me more than it hurts you. @mizweatherby
Yes dear….I'm sorry… @youthguy07
The most important thing a father can do for his children is love their mother. -Theodore M. Hesburgh @shawneeinva
Any man can be a Father but it takes someone special to be a dad. -Anne Geddes @lauriespops
By the time a man realizes that maybe his father was right, he usually has a son who thinks he's wrong. -Charles Wadsworth @lauriespops
My father gave me the greatest gift anyone could give another person, he believed in me. -Jim Valvano @lauriespops
The father who does not teach his son his duties is equally guilty with the son who neglects them." -Confucius @lauriespops
You're not really a parent if you have 1 child. If the lamp is broke, you know who did it! -Bill Cosby @bree_notinit
Blessed indeed is the man who hears many gentle voices call him father! -Lydia M. Child
Advice for Dads
Spend quality time with your children while you can. They grow up way too fast. @lkdukes
Pray with your children. @randysrules
Be better men, nurture and protect, empower boys to be better men and stand up against women and child abuse. @ps43gp2009
To keep up the good work.To let everyone know who the Daddy is. @pontefrak
B the man in ur daughters life that God intended u to b. U become Wut she looks for or runs from @inneractivefit
Make the world a better place today for the children of tomorrow. @sandiego2015
get a mobile gaming device for those solitary bathroom trips! @mdurwin
Spend as much time with your children as you possibly can, and listen to them with passion. @pimike
Spend quality time with ur children. Quality time to a child = u love me, I'm special. @lauriespops
If u actually fathered a child, BE A DADDY!! @estangulu
Stay in the game; never give up on your kids or your wife. My youngest just graduated HS. It has all been so worth it. @dwentworth23
What advice do you have for dads?