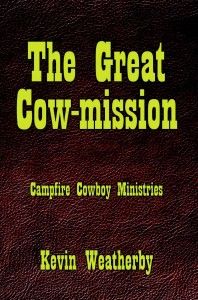 Today we're reviewing, discussing, and giving away The Great Cow-mission by Kevin Weatherby. Keep reading to learn how you can win a free, autographed, hardcover copy of the book.
The Great Cow-mission, written by Kevin Weatherby of Campfire Cowboy Ministries, is a collection of short stories from Kevin's life as a cowboy. Each cowboy story conveys a spiritual truth which is then explained, usually with a supporting passage from the bible.
Kevin is an excellent storyteller. Many times while reading The Great Cow-mission I found myself laughing out loud, literally. Other times I found myself wishing I could experience the cowboy life – the camaraderie and sense of accomplishment that seem to come with it – until I got to the parts about it being chased by bulls or being kicked in various parts of the anatomy while branding calves. At that those points I was once again content just to read about it.
What makes The Great Cow-mission a unique book, though, is that Kevin is rare person who can speak three languages – English, Cowboy, and Christianese – and translate from any one to the other two. In doing so he's able to connect with both cowboys and Wal-Martians (Kevin's term for people who live within 10 minutes of a Wal-mart) like me and convey the truths of God in simple ways that make sense.
If you like cowboy stories, you'll like this book. If you're a pastor looking for good stories to use in your sermons to convey spiritual truths, this could be a good resource. Or… (begin cowboy speak) if you know some cowboys or cowgirls who ain't yet walkin' with the Lord, you might consider givin' 'em a copy as a gift or stuffin' a copy in their saddle bag when they ain't lookin'. (That'll do it for this Wal-Martian's attempt to speak cowboy.)
Discussion
Who is your favorite storyteller?  Why?
What's your favorite fable, parable or story from your own life that taught you an important spiritual truth?
What do you think it is about stories that make them so good at conveying truth?
Get a Free Book
I've got a signed, hardcover edition of The Great Cow-mission to give away. To win one…
Retweet this post or share it on Facebook, and
Post a comment that addresses one of the discussion questions  (include your Facebook or Twitter usename in your comment so I can connect your comment to your share/tweet).
I'll draw a winner at 5 PM Eastern time Thursday (June 16). Heck, if you comment and share/tweet this post both Wed & Thu I'll give you two entries in the drawing so you can double your odds.
Of course, you can also buy a copy of The Great Cow-mission now on Amazon now.