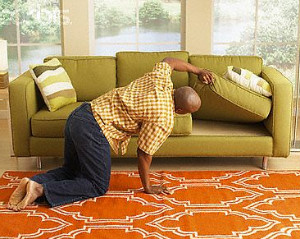 Research studies have found the average person spends between 16 and 55 minutes a day looking for misplaced items. What do we spend our time looking for?
Keys
Remote controls
Socks and shoes
Documents
Passports
Tools
Cosmetics
Phones
Over the course of a 70 year lifetime that adds up to 1-3 years lost!
It's a shame because that's time we don't get back. And it's an even bigger shame because it's completely avoidable.
You can eliminate wasting more time looking for lost items using this simple 3 step process.
1) A place for everything…
First, you have to determine or create a specific place you're going to keep everything, and I mean EVERYTHING.
Create a place to hang your keys.
Create a put your purse/wallet.
Create a place to put the remote controls.
Organize a place to put your shoes so you know where each pair goes.
If you have a work bench or tool box, create a specific place for each item.
Ladies, find a way to organize your cosmetics rather than stuffing them all into a bag or box.
And most important of all, create an intuitive filing system so you can find any document in a moment's notice and know where each new document goes.
Create places for everything in your work environment as well.
2) …and everything in its place
Second, discipline yourself to always put things back where they belong as soon as you've finished using them. This is where most people (including me) fail. You get home from some place, and you're in a rush so you just set your keys, your phone, or your wallet somewhere, you get distracted, and start into something else. Later you forget where you set them down.
There will probably be occasions where you just don't have time to everything back where it belongs immediately. For that reason, I suggest setting out an "In Basket" near the door or on a counter. When you're in a rush, dump everything in your "in basket." But for this to work, you've got to empty your in basket and put everything where it belongs regularly
3) Get the team on board
Steps 1 and 2 work great if you live and work by yourself, but if you've got a spouse, kids, or co-workers you know what happens – other people move stuff. One of your kids takes the remote to the bathroom with him and leaves it there. Your wife grabs a screwdriver to fix something and it never returns. Your coworker decides to "borrow" the paper cutter. It's a big challenge when it comes to items that are owned and used by a group of people.
So, step three is to make sure everyone who uses an item knows its place and is committed to putting it back as soon as their done using it. For some things, you may want to go with some sort of check-out system.
Discussion:
What do you find yourself spending the most time looking for?
Which of these 3 steps do you want to make the greatest improvements?
If you've already cut down the time you waste looking for things, what have you done that's made the greatest impact?
12) Choose to… <– Things You Don't Have Time NOT to Do –> 14) Help Others