I hinted at it yesterday on Twitter…
Trying to go without coffee today. Not much fun. 😛
And mentioned it again this morning…
Starting day 2 with no coffee. Hoping a run will wake me up.
Since several people have asked, here's the scoop: I'm giving up coffee… and beer… and soda… everything except tap water.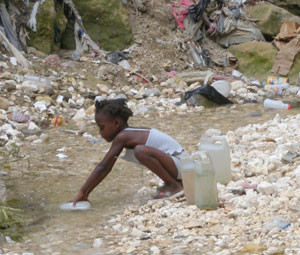 I got this email from my pastor on Friday:
Hey anybody interested in joining Jacque and me in doing a little good for some people in desperate need of clean drinking water? If so…read on…
As you know Cypress is partnering with God to write 'A 1000 Stories of Faith, Hope and Love over the next two years. And one of our objectives is to get a source of clean drinking water for the 400 children in our partner school and the 500 people of the church there. (Just a reminder that more than half of the deaths in Haiti are attributed to water borne diseases as is about eighty percent of the illnesses. People in our partner church died in the last cholera outbreak.) The good news is we are third on a list to get a well dug. The bad news is we don't expect the water we hit to be potable so a purification system will be needed.
And here's our little idea: it is Lent…a season to pray, fast and give. A season when many Christians sacrifice something to remind them of Christ's great sacrifice for us. So Jacque and I are going to give up all beverages except tap water for a period of time between now and Easter and then give the money we would have spent on coffee, sodas, juice and so forth to the Cypress Haiti Water Fund.
I wish I could say I started with altruistic motives. But, here's the truth. When I got that email, I was finishing up an exhausting week in which I had stayed up until 5 AM the night before and was drinking 4-5 cups of coffee a day just to keep going.
My immediate thought, "That's not gonna happen." Delete.
Over the weekend, I realized that once again I have been living at an unmanageable pace. There's a lot going on at work, I'm trying to lead a team on a trip to Kenya this summer, I'm coaching baseball, and I'm trying to be a good husband, father, elder, small group leader, and so forth. It's easy for me to fall into the trap of trying to do more, sleep less, and drink as much coffee as I need to to make things work.
My pastor repeated the challenge during the Sunday service. But, considering it was time-change Sunday, I was even less inclined to participate.

I went to bed early Sunday night. The next morning when I woke up, my wife, Jennifer, had already left for her morning workout. Usually, she sets the timer on the coffee pot the night before. But when I woke up, there was no coffee in the pot. I figured she was probably doing the challenge, so to help her avoid the temptation I decided I wouldn't brew any coffee either.
Monday's are killer for me – meetings all day followed by a 2 hour class in the evening, but somehow God got me through the entire day without coffee.
Now I'm on to day 2.  For how long? I have no idea. 2 week, 5 weeks, maybe forever if I feel better and more energetic.  While a big part of the reason I'm doing this is still for my own health and to better manage my energy, why not do it to help the families of our sister church in Haiti as well?
By blogging and tweeting about it, I've gone public and I've got you to hold me accountable.
If you're a part of Cypress Meadows, would you join me in the Haiti Water Challenge?
If you're not a part of Cypress Meadows, why not join me anyway? It'll be good for you and for some families in Haiti who are not all that different from yours except that they lack clean drinking water.
Added 3/23: Or if you want to help us dig a well & put in a filtration system in Haiti, you can donate here.