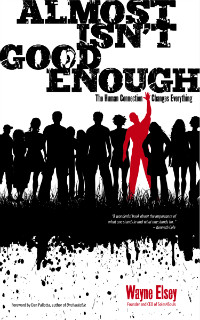 Today we're reviewing, discussing, and giving away Almost Isn't Good Enough by Wayne Elsey. Keep reading to learn how you can win a free copy.
In Almost Isn't Good Enough, Wayne Elsey, founder and CEO Soles4Souls, challenges the conventional ways most non-profits operate and shares the principles that have made Soles4Souls successful.
Wayne began his career in the shoe business and rose through the ranks to become president of the company. A passion for putting shoes on the feet of those who have none led him to leave the corporate world and start Soles4Souls. What sets Wayne and Soles4Souls apart from most non-profits is their whatever-it-takes, results-oriented operating philosophy, which is common in the business sector but not so much among non-profits.
Each chapter in Almost Isn't Good Enough, explains a different principle such as:
Hire the best and pay the best
Awareness is worthless, but engagement is priceless
Cash creates margin. Make no apologies for increasing the bottom line.
Make decisions
Take action
Focus on solutions not processes
Personal Thoughts
Almost Isn't Good Enough is for non-profit leaders what Rework is for small business leaders – a kick in the pants!
Some people will bristle at what sounds like bringing corporate culture to non-profits, but I found the book to be a breath of fresh air. A lot of non-profits seem to be more concerned with not rocking the boat – not upsetting donors, not doing anything that might fail, avoiding change – than solving problems. In my opinion, we need more boldness, more risk-taking, more action-oriented people in the non-profit sector.
If you are involved in a non-profit, ministry, or church, I think you'll find Almost Isn't Good Enough refreshing, challenging and motivating.
Discussion
In what ways have you seen non-profits get bogged down from indecision, lack of action, an unclear mission, or fear of failure?
Which of the principles above resonates with you most? Why?
How could your own non-profits, ministry, or church be better if it was more decisive, action-oriented, and solution oriented?
Get a Free Book
I've got 2 copies of Almost Isn't Good Enough to give away. To win one…
Retweet this post or share it on Facebook, and
Post a comment that addresses one of the discussion questions  (include your Facebook or Twitter usename in your comment so I can connect your comment to your share/tweet).
Get multiple entries into the drawing by sharing/commenting once each day.
I'll draw two winners at 5 PM Eastern Monday February 14.
If you'd like to buy a copy go to http://www.wayneelsey.com/almostisntgoodenoughbook/. 100% of book proceeds go to Soles4Souls. For each book purchased, TEN people in need will receive shoes.