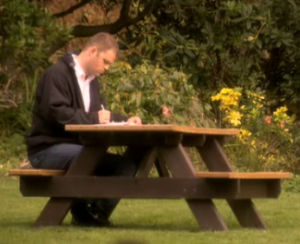 Imagine your 80th birthday party. Your friends and family are all gathered around to honor you and your life. Who would you want there? What would you want them to say? What character attributes and accomplishments would you want them to mention?
Life is a journey. With every journey, you can only reach your destination if you know where you're going.
Writing a personal mission statement is a powerful experience that brings clarity to your life. In it you define your hopes and dreams, who you want to be, and what you want your life to be about. The process of writing your personal mission is very motivating and will bring you a sense of mission and purpose.
But beyond that, your personal mission statement serves as a constant beacon for your day-to-day life. It's like a lighthouse, pointing you in the right direction and helping you to avoid the rocks.
Sadly, a lot of people's 80th birthday look nothing like the one they hoped for. Maybe their spouse is gone because they cheated or didn't invest on their marriage. Maybe they're alienated from their kids. Maybe there are no accolades because they didn't accomplish anything in their career. Maybe there are no friends there because they didn't make time for them. Maybe nobody in the community has anything to say about them because they spent all their free time entertaining themselves instead of helping others.
Nobody intends for their life to turn out this way. It happens when people either a) don't have a clear picture of their destination, or b) make decisions that lead them away from their intended destination.
If you don't have a personal mission statement, take an afternoon or as long as it takes to write one out. The time you invest in it now, will pay a huge dividend over the years. You'll save yourself the wasted time and heartache that comes from puttering around without a clear sense of direction or going down paths that lead you away from it.
Take a few moments to hear what Stephen Covey, author of The Seven Habits of Highly Effective People has to say about creating a personal mission statement.
I first wrote my personal mission statement in August 1994.  I'm looking at it now and it's giving me goosebumps.  It's too long to share here. Maybe in another post.
Do you have a personal mission statement? If not, are you making it a priority to create one?  If you do, how has it impacted your life? Would you care to share it?
4) Figure Out the God Thing <– Things You Don't Have Time NOT to Do –> 6) Examine Your Motives