12 Tips to Reduce Stress and Live Intentionally During the Christmas Season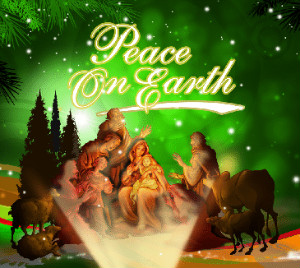 For many people, December is the busiest most stressful month of the year.
While humming along to carols proclaiming "peace on earth and good will toward men," many people find themselves frantically fighting crowds in busy stores and jam-packed parking lots, juggling Christmas lists, and running from one party or rehearsal to the next.
Many people  wake up Christmas morning only to realize they're burned out and haven't given any serious thought to the true meaning of Christmas.
It's a sad irony.
And it doesn't have to be that way.
Here are X tips to reduce your stress during the holidays and keep your focus on the true meaning of Christmas.
1) Draw names. If you have a large family, instead of everyone buying gifts for everyone else, have all the adults throw their name into a hat and draw the name of one person who they'll get a gift for.  Agree ahead of time on the price range for that gift.
2) Forgo gifts. Instead of making a list of things you want others to give you for Christmas, consider forgoing Christmas gifts and asking people to make a donation on your behalf a charity you're passionate about.  It's a significant step away from the consumerism and materialism that plagues Christmas.
3) Shop online. It's much faster and less stressful.
4) Shop with a plan. If you really must go to a local store to shop, go knowing what you're going to buy rather than browse.
5) Say no. You really don't have to go to every party, concert, festival, in your community.
6) Daily devotions. Pick up a Christmas devotional book and do a brief devotional during dinner every evening with your family, spouse, or roommate.
7) Put the kibosh on your inner Clark Griswald. Cut back on your decorating. Go simple.  Don't try to out-do your neighbors.
8 ) Share the prep. If you're having people over for a Christmas meal, ask them to prepare and bring a dish instead of preparing everything yourself.
9) Buy instead of bake. For some people baking cookies and pies is a tradition that brings joy.  If that's you, great!  But if baking is something you do out of obligation and it adds to your stress, don't do it.
10) Rethink your Christmas card plans. Everyone does (or doesn't do) Christmas cards and letters differently.  But if writing Christmas cards and letters feels like an obligation and stresses you out, maybe there are better options. My wife and I used to send out an annual Christmas letter to family and friends, but then we started posting it online and sending a post card with a picture of our family and a link to the letter.
11) Share the love. Do something (preferably as a family or with friends) for others. Don't just give money. Do something that puts in in direct contact with those you're helping.  Sing carols at an assisted living facility, serve at a homeless shelter, take the child of a single mom out to shop for their mom.
12) On Christmas morning, before everyone starts busting into the gifts read the Christmas story from the bible
What suggestions do you have for reducing holiday stress and helping to keep your focus on true meaning of Christmas?