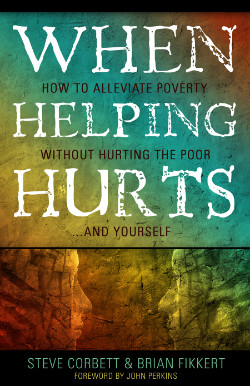 Today we're reviewing, discussing, and giving away a copy of When Helping Hurts by Steve Corbett and Brian Fikkert. Keep reading to learn how you can win a free copy.
Billions of dollars are spent every year by governments, non-profits, churches, and individuals in efforts to try to alleviate poverty both in the industrial world and in 3rd world countries. While these efforts may be well-intentioned, many of them not only fail to help poor people but actually do harm to both the "materially poor" and the "materially non-poor."
After many years of working directly with poor communities and consulting with non-profits Steve Corbett and Brian Fikkert wrote When Helping Hurts: How to Alleviate Poverty without Hurting the Poor and Yourself to help individuals and organizations better understand poverty and how to address it in ways that work.
The Problem
Corbett and Fikkert sum up the problem with many western poverty initiatives with this equation:
Material definition of poverty + God-complexes of Materially Non-poor + Feelings of Inferiority of Materially Poor = Harm to Both Materially Poor and Non-poor.
One part of the problem is that Americans tend to think of the poor purely in terms of lack of resources, when in reality poverty is more complex than that. Often the poor feel inferior, have an inaccurate worldview, have systems working against them, lack education, or don't have access to capital. Additionally, we Americans also tend to have a God complex and think of ourselves as superior. We think we are smarter, harder workers, have a better worldview, and so we have a tendency to come in throw around a lot of money and impose a solution on people which usually fails.
The Solution
One of the most important learning points in the book is that it's important to assess a situation and determine if it calls for relief, rehabilitation, or development. Most western poverty efforts provide relief – giving out food, water, clothes, shelter. And there are certainly situations where relief is appropriate. But upon closer examination, the vast majority of poor people are not in emergency situations. Their situation doesn't call for relief. Inappropriate relief often creates all kinds of problems both for the people receiving the relief and the surrounding community. It can undermine prices, families, churches, communities, and work ethic.
The goal of poverty alleviation should be to not just to raise people out of material poverty, but to empower them to live sustainable lives working, saving, problem-solving, and helping others. Corbett and Fikkert make the case that for that to happen, we need to start with what's right with a poor person or community (asset-based community development) and work with the people in that community to develop processes that will work with their culture and strengths.
Personal Thoughts
One of the ways I know a book is great if I walk away from it saying, "That was so obvious! Why didn't I think of that!?" And that's what I come away from When Helping Hurts saying.
It resonates with every experience I've had with poverty. The nagging feeling of "Is this doing any good?" I've had when serving free food to the same people month after month. The awkward feeling of humiliation I sensed in the poor Kenyan villagers last summer when they lined up to get bags of dehydrated food from the rich white folks. The joy I've seen in the eyes of parents who after years of unemployment and low self-esteem are proud to be working and providing for their families.
I feel like I've been looking at poverty with my 20/200 vision not realizing how blurry it was, the eye doctor has just handed me my first pair of glasses, and wow I can see for the first time.
If you care about the materially poor, if you lead a church, if you serve poor people in any capacity, if you're considering going on a short-term missions trip, I can't recommend this book strongly enough.
Questions
Have you ever observed or been a part of a poverty alleviation effort that failed to assess whether the situation called for relief rehabilitation, or development? What happened?
Have you ever sensed a "god-complex" in yourself when serving poor people? Helping people because you want to make a difference or because you are richer, smarter, better skilled, or more disciplined, rather than because you genuinely wanted to help them become self-sufficient?
Where are you seeing poverty alleviation efforts that are really working?
Get a Free Book
If you'd like a free copy of When Helping Hurts, all you have to do is
Retweet this post or share it on Facebook, and
Post a meaningful comment to this post that contributes to the conversation (include your Facebook or Twitter usename in your comment so I can connect your comment to your share/tweet).
One person will be randomly selected the afternoon of Thursday 11/4 to receive a free copy.