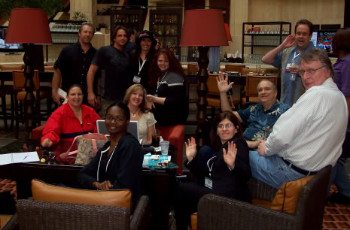 For those not familiar with the lingo, a meet-up is an in-person gathering of people who have met online.
I've had the pleasure of being a part of a number of meet-ups and tweet-ups, and I absolutely love 'em.  For me, there aren't too many things more fun than meeting, hanging out and talking face to face with someone IRL (in real life) who I previously have only engaged with online.
But what about the other way around?
As someone who spends most of each day in front of computer, I thought it would be great idea of I could meet online with some people who previously I've only seen IRL – my neighbors.
A couple weeks ago when I went around introducing myself to my neighbors and inviting them to a block party, I included on the invitation my email, Facebook, and Twitter addresses.
Unfortunately, so, far it's been a total bust.  One of my neighbors emailed me to let me know he couldn't make it to the block party, but other than that nothing.  No contact on Facebook or Twitter.
What do you think about the idea of a reverse meet-up?  Other than family and close friends, have you had success in taking offline relationships online?