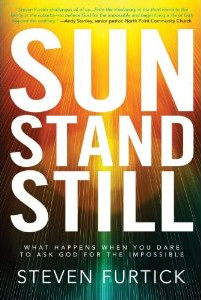 Today we're reviewing, discussing, and giving away a copy of  Sun Stand Still by Steven Furtick.  Keep reading to learn how you can win a free copy.
Steven Futrick's book Sun Stand Still challenges Christians to ask God for the impossible.  The title and theme of the book is based on Joshua 10.  God had promised Joshua victory in a battle.  As the Amorites fled hoping to escape in the coming darkness, Joshua prayed the impossible – that God would make the sun stand still.  And God did it.  "So the sun stood still, and the moon stopped, till the nation avenged itself on its enemies." (Joshua 10:13).
"Sun Stand Still is a metaphor for the seemingly impossible things God wants to do in and through your life."
Sun Stand Still challenges Christians to move beyond a life of ordinary, mundane survival, and instead embrace the bold vision God gives each of us, praying audacious prayers and living with audacious faith.
Favorite Quotes
Sun Stand Still is chock full of great quotes that encourage and motivate.  I could list dozens, but for the sake of space, here are the ones that were most meaningful to me.
Faith is not a drug to sedate you through a life you hate; it's a force to transport you to another realm of reality. (P 8 )
I'm not raising my kids to survive the world. I'm raising them to change it. (P 27)
Seize God's vision… Activate your faith… Make your move. (P 28)
You do have a personal birthright to believe in a God-given mission for your life. (P 30)
Impossibilities don't exist, because there's absolutely nothing our God can't do (Matt 19:26, Luke 1:37) (P 33)
Extraordinary moves of God begin with ordinary acts of obedience. (P 38)
God performs the most impressive feats through the most unimpressive people.
If you do the believing, he'll do the achieving. (P 55)
It's not wrong to feel fear.  It's wrong to let that fear have the last word in your life. (P 61)
Whatever you do, don't take your cues from the complacent Christians around you.  Lots of people in your life might be perfectly content with kiddie-pool Christianity. But perhaps God is calling you to lead the way so that others can see a different example of what the Christian faith means – an example that will fill them with the longing to experience his power. And someone has to make the first move.  It might as well be you. (P 62)
The great things God will do through you are going to grow in the soil of persistence, prayer, obedience, and sacrifice. (P 68)
God's invisible work in you prepares you for his visible works through you. (P 72)
Sometimes God has to let your dream die so that his vision for you can come alive. (P 73)
"What comes into our minds when we think about God is the most important thing about us." A.W. Tozer (P 79)
Hearing the Word initiates faith. Speaking the Word activates faith. Doing the Word demonstrates your faith. (P 91)
"Sometimes we get to see the miracle other times we get to be the miracle." (P 124)
Your crisis is your greatest opportunity to see God's glory and goodness revealed—and to have the high honor of revealing him to others. (P 125)
Hope is a desire.  Faith is a demonstration.  Hope wants it to happen.  Faith causes it to happen and acts as if it's already done.  (P 154)
You want to learn to walk by faith, not by sight.  And you can't learn that without walking through periods of complete darkness. (P 166)
We're not here to merely survive or to condemn the world, but to transform it for the glory of God. (P 173)
Personal Thoughts
Sun Stand Still has really challenged and motivated me to ask God for a bigger vision for my life, pray bigger prayers, and take bigger steps of faith.  I've read several other books in recent years that have similarly challenged me in my faith – Seizing your Divine Moment (Erwin McMannus, If You Want to Walk on Water, You've Got to Get Out of the Boat (John Ortberg), Crazy Love (Francis Chan).  I can't say that I learned anything new from Sun Stand Still, but I think it's good for every Christ-follower to read a book like this at least once a year to stave off complacency.
I am certainly better for reading it.  My spiritual and emotional tanks are full, and I'm ready to go bigger for God.
Discussion
If you're a Christian is your faith merely helping you survive life, or are you boldly trusting God to use you to impact this world?
Do you have an audacious, God-given vision for your life?  If so, what is it?  If not, are you persistently asking God to reveal it to you?
Have you ever prayed for the impossible and seen God "make the sun stand still?"  Tell us about it.
Get a Free Book
If you'd like a free copy of Sun Stand Still, all you have to do is
Retweet this post or share it on Facebook, and
Post a meaningful comment to this post that contributes to the conversation (include your Facebook or Twitter usename in your comment so I can connect your comment to your share/tweet).
One person will be randomly selected the afternoon of Wednesday 9/22 to receive a free copy.
Sun Stand Still goes on sale today.  More resources are available at SunStandStill.org