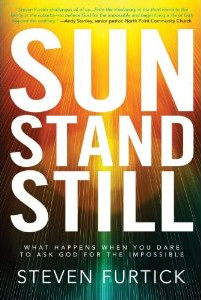 This is a guest post by Pastor Steven Furtick.
A few years ago, I started realizing that I prayed some pretty dumb prayers. Not that I think God needs me to be eloquent or profound when I talk to him. It's just that a lot of the stuff I was praying was, well, rather pointless and obtuse.
Things like, "God, just be with me today."
Before you go getting all insulted (because I know you've prayed this one yourself), let me say that I understand the heart behind this prayer. And I'm sure God does too. What we mean is that we want to experience his presence and power in our lives. But come on. Isn't this prayer usually just filler? God fills heaven and earth. Every inch on this planet, and every other planet, belongs to him. And if we're believers in Jesus, God lives in us in the form of the Holy Spirit. Do we really need to make sure he's going to be with us?
When it comes to prayer, a lot of us have this standard stuff down. We can string together enough spiritual-sounding words or phrases to hold our own if called upon in public, but we rarely move beyond these safe and comfortable realms of faith.
I'm sorry, but I believe we've been saved to do more than that. I believe that God appreciates it when his people pray in a way that's actually worthy of the God they're praying to.
If you don't believe me, check out the prayers from the juggernauts of faith in the Bible. I don't believe that they're there simply for us to admire, but to emulate.  They're recorded in Scripture to set an all-time prayer standard for us. To inspire us to rise up and begin praying in a way that measures up to the God we're praying to.
People like Moses, who stood in God's way and prayed that God wouldn't kill the Israelites after they worshiped the golden calf.
People like Elijah, whose prayer both caused and ended a three-and-a-half-year drought.
People like Joshua, who prayed for the sun to stand still, and it actually happened.
You may push back on this, but I suggest that the prayers of these people are not abnormal. They are not the exception. At least they were never meant to be. The tragedy of our time is that we have taken what was meant to be ordinary and made it exceptional. The only difference between you and me and these juggernauts is that they had the audacity to pray prayers that lived up to God's character, God's heart, God's resources, God's will, and God's abilities.
The message of Sun Stand Still is that it doesn't have to stay that way. You can begin praying audaciously like these people. And you can begin seeing the same kind of audacious miracles that they saw in response.
If you'll abandon the dumb prayers that we're all guilty of from time to time and begin praying in with the audacious faith that God has always intended for you.

Steven Furtick is the Lead Pastor of Elevation Church, an incredible move of God in Charlotte, NC. He is the author of the forthcoming book Sun Stand Still (<== pre-order here). He lives in Charlotte with his wife Holly and their two sons, Elijah and Graham.