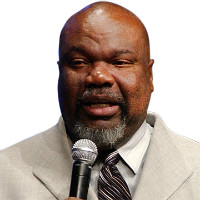 Named by TIME magazine as one of the "25 Most Influential Evangelicals in America," Bishop Thomas Dexter (T.D.) Jakes is an entrepreneur, global advocate, philanthropist, and pastor of The Potter's House. Located in Dallas, Texas, this multiracial, non-denominational congregation has more than 30,000 members. Known for his service to both the church and the global community, he's led initiatives to combat domestic violence, homelessness, poverty, and AIDS. A prolific writer, Bishop Jakes has authored more than 30 books, including two New York Times best-sellers. A past and popular Summit speaker, he will close our 2010 gathering with a powerful and moving reminder of the greatness of God.
Notes
People don't do everything because of dollars and sense, they do it because of passion.
Church leadership is unique. People don't' come to follow you, they come to follow Jesus.
They came to follow Him and they got you. 🙂
It's a real step down from Jesus to you. 🙂
You cannot make passionate people if you're not passionate yourself.
People get tired of following an imitation.
People follow people who move, take action, and take risk.
Part of leadership is to make sure the lamp in your group, your church does not go out.
Anointing from the head, to the beard, to the skirt. Make sure it's not diluted or polluted.
Challenge people without overwhelming them.
Gift analysis is important.
When God gives you people to work with that's assets, they're right from his treasure chest.
You have to make sure that people deliver on the promises you make.
Pray that the Holy Spirit gets the message across to people even when you don't.
God will make up the difference.
People are ignited by passion.
Passion is more than emotionalism.
Passion is the fuel that makes the engine go.
Put people to work doing things that make them jump out of bed.
2 different kids of leaders: builders and bankers.
Banking the fire made it burn all night without burning out.
Builders are people who you can give next to nothing and they can make something out of nothing. Joseph was a builder. He was building in prison.
If your a builder you need a banker, someone who can manage and sustain.
The problem is most people get people like themselves around themselves.
If you only have people around you who do what you do, they compete with you instead of complete you.
When Jesus began his ministry he didn't pick one rabbi. He didn't pick anyone who did what he did.
Don't make confidants out of the people you work with.
Confidants are people who are for you no matter what.
If you have 2-3 confidants in a lifetime you are blessed.
Constituents are not people who are for you, they are people who are for what you are for.
Don't try to hold people to tightly who are meant to come and go.
Some people are like the King James Version, they came to pass. 🙂
Comrades they are against what you're against.  You put them in the fight.
Like Peter, you gotta keep at least one ear-cutter. 🙂
If you don't learn how to use comrades to fight for you, they will fight against you.
If you try to make comrades grazing in the pasture when they should be howling on the mountain, it will bring trouble to your team.
Most leaders find it difficult to be transparent enough to let people know them and read them.
Nobody has to be impassioned when you're in a battle, you have to encourage them when they're along the way.
Sometimes when you encourage people they leave with your courage.
Sometimes I think I need a me. (to encourage me)
When you're tired and running low, you have God who gives strength.
When my heart is overwhelmed I go to the rock who is higher than me.