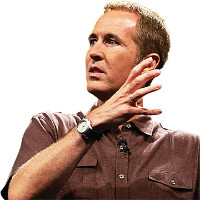 Under the leadership of Andy Stanley, North Point Community Church in Alpharetta, Georgia, has become one of the largest and most innovative churches in the United States. Founded in 1995, the church has grown to three campuses and a weekly attendance of more than 22,000 people. They have also helped plant more than 20 strategic partner churches across North America. Stanley is a dynamic speaker and author whose books include Visioneering, Next Generation Leader, and Communicating for a Change. His latest volume, The Principle of the Path, explores a basic truth that can eliminate regret, as it helps to successfully move people from where they are to where they want to go.
Notes
As a young leader, it was temping to think everything came easy for veteran leaders.
The myth I believed is if you're a great leader you'll solve all your problems and you'll get rid of all the tension.
But just the opposite is true, great organizations have tensions and problems that are never solved.  Great leaders are able to leverage those in a way that creates progress for the organization.
The very same person with the very same digits can pick up a contact lens and throw a baseball 90 miles per hour.
1) Every organization has problems that shouldn't be solved and tensions that shouldn't be resolved
How do you solve the tension between family life and work?  You don't.
It keeps coming up because it's not a tension you can resolve.
If you try to solve the problem, you create more problems
Examples: Marketing vs sales, management vs leaders, systems vs flexibility, preaching as led by the spirit vs getting services done on time, reaching unbelievers vs nurturing believers
B) If you solve those tensions, you will create a new problem.
What if you go for excess and ignore finances?
What if you go all theology and no application? You're Presbyterian. 😉
What if you allow the preacher to go as long as he wants? You're Baptist. 😉
If you remove your thumb you resolve the tension, but you create more problems.
C) If you solve any of those tensions, you create a barrier to progress.
D) Progress depends on successfully managing the tensions
2) To distinquish between problems to solve and tensions to manage, ask the following
Does this problem or tension keep resurfacing?
Are there mature advocates for both sides?
Are the two sides really interdependent?

If you work all the time, you'll lose your family.  But if you spend all your time with your family, you'll lose your job (and then lose your family.)
3) The role of leadership is to leverage the tension to the benefit of the organization.
Identify the tensions to be managed
Create terminology

"I guess that's a tension we have to manage."
Some arguments you don't want a person (or one side) to win

Inform your core.
Continually give value to both sides.
Don't weigh in too heavily based on your personal biases.

If you're not careful as a leader, you can move something off the table that should always be on the table.
You need to be able to argue the upside of the side you don't normally lean.

Don't allow strong personalities to win the day.

I need passionate people who will champion their side, but I need mature people who understand how to live with the tension.

Don't think in terms of balance, think in terms of rhythm.

As a leader should never try to be fair. 🙂
There's a time to weigh heavily towards one thing and other times to weigh heavily towards the other side.
As a leader, one of the most valuable things you can do for your organization is differentiate between tensions your organization will always need to manage vs problems that need to be solved.