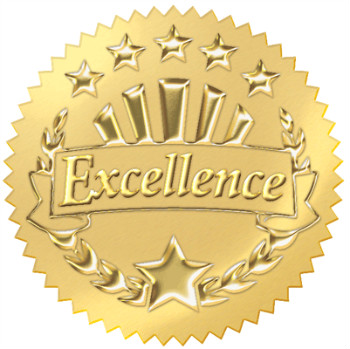 A lot of people are trying to "raise the bar" on excellence these days.  Excellence is important, but the idea that we should do everything with excellence is an impossible goal.
Excellence means exceeding expectations.
Unless you are blessed with a talent that enables you to naturally exceed expectations, to exceed expectations in any endeavor you are going to have to put extra time, extra effort, or extra resources into that endeavor.
Your personal time, energy, and resources are limited.  If you put extra time, effort, or resources into one thing, you have to take it from something else.  It's impossible to be excellent in your career, an excellent spouse, an excellent parent, an excellent PTA member, an excellent home owner, have an excellent body, and be an excellent golfer all at the same time.
Sure, there things we can do to raise performance and productivity across the board and we should, but there are still limits to what we can do.
Ultimately, excellence is a matter of choice.
Intentionally or unintentionally, we all choose what we want to do with excellence, and what we are OK with doing OK.  We make that choice when we decide what we to put extra time, effort, or resources towards, and what we're just going to do as well as we can with less.
I want to be an excellent husband, parent, follower of God, and leader at work. While I often fall short of excellence, I do my best to put extra time, effort, and resources into those things.
On the other hand, nobody is every going to confuse me for a model or a pro athlete, so I'm content to exercise for 30 minutes 5x a week with some cast-iron weights and an $80 bike I got at Wal-mart.  My house is never going to be in Better Homes and Gardens, so I spend time and money on the weekends with my family rather than on home improvement projects.  I usually help coach my son's baseball and soccer teams, but I'm not out to win a national championship, so I don't put time and money into researching the best methods, training videos, and equipment.
What do you want to do with excellence?  Have you made an intentional choice to put extra time, effort, and resources into those things? If so how?  If not, what adjustments are you going to make?