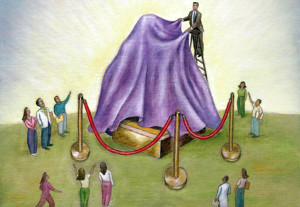 Live Intentionally has been totally redesigned and I couldn't be more excited!
I was never very happy with the previous design and its gray text with dark gray links on a white background.  As I went through the 31 Days to Build a Better Blog project in May and June I got a bunch of new ideas for improvements.  But even more importantly, I gained a lot of clarity as to what I want Live Intentionally to be about, how I want it to look, and how I want it to function.
So, here's what I changed and why. Maybe it will give you some ideas for your own blog.
The header – As much as I liked all the pictures at the top of the old design, I think they made the site seem busy.  Plus some people came away with the first impression that I probably blogged mostly about myself and my family.  I wanted the new design to be simpler, cleaner, a little more professional looking.  I also like the burnt orange because it's unique and stands out.  The next step will be to replace the "Live Intentionally – You matter. Live like it." text with an original logo.
Latest tweet – Previously, when a person visited my blog.  The action step I wanted them to take was to subscribe to the RSS feed.  But I believe Twitter has surpassed RSS feed readers in popularity (I'll have to research that to be sure), and I can engage with people much better through Twitter.  So, Twitter is now a priority over RSS, and putting my latest tweet in the header makes that prominent.
Category bar – The new category navigation bar just below the header gives let's people know the topics discussed here in less than 5 seconds.  The fact that real estate there is limited forced me to reorganize the categories and make use of sub-categories.  I still have some reorganizing to do, but it's a start.
Dynamic Content Generator (aka Featured Articles) – I think this may be the coolest addition to Live Intentionally.  I previously had a list of Top Posts in the sidebar, but the DGC allows me to feature the posts that have lasting value for readers.  The images and motion really draws attention.  The DGC is a free WordPress plugin.
Latest posts – Below the DGC in the main part of the homepage, intros to the 10 most recent posts are shown.  One of the things I came out of the 31 Days project with was a desire to make my homepage more like a magazine cover.  The goal is to get a person to click to a post as quickly as possible.  So, it's more visual, less text, and less page real estate taken up by each post,  so a reader can scan through the latest posts more quickly.  I still have some work to do to shorten up the exerpts.
Advertising – One of the biggest changes was the addition of ads in the right sidebar.  I'm going to do an entire post explaining why I decided to start offering advertising.
Tabs widget – There's a new widget in the right sidebar that lists the most popular posts, most recent posts, recent comments, and tags.  It's good info to have on the blog and this widget displays it cleanly without taking up a lot of space.
No archive – The old design included an archive in the sidebar which could be used to navigate to a list of posts in a particular past month.  The archive was rarely used and always looked cluttered to me.  So, bam! Gone!  If you want to find an old post, use the search box.
Better post formatting – Without getting too specific, I think the formatting of the full posts is cleaner and more appealing.  Though, it looks like there are issues on some posts with resizing images which I need to go back and address.
Big thanks to WooThemes who created this WordPress theme and to Erica Mullenix who pointed me in their direction.  And big thanks to Justin Write the "Lead Blog Ninja" at Zoop Media, who customized the theme for me in less than 24 hours.
So, what do you think?  Which changes do you like most?  What don't you like?  Any changes or additions you think should be made?