What's Happening in Haiti Now? Ask @CypressMeadows @410Bridge @ShaunKing @BibleDude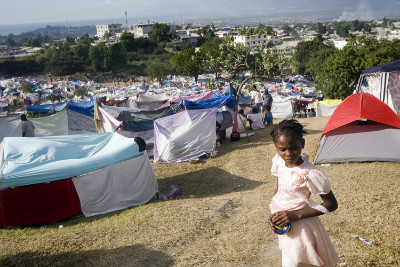 It's been almost 6 months since the major earthquake devastated the people of what was already the poorest country in the Western Hemisphere.
The reporters have gone home. The concerts and celebrity fundraisers have ended. Much of the world's interest has faded.
But things are not back to "normal" for the people of Haiti. (Not that what was previously "normal" would be acceptable either.)
So, what's happening in Haiti now?
Fortunately, not everyone has forgotten about Haiti. Here are some great examples of what some people are still doing now in Haiti, and how you can get involved.
1) Cypress Meadows Community Church
A group of 14 people from my church are down in Haiti right now. They've been helping to rebuild a home and an orphanage in Port-au-Prince. We at Cypress Meadows have been supporting a church and school in northern Haiti (St. Louis Da Nord) for about 5 years now. The team that's in Haiti now is trying to work out the logistics to get a water filtration system in St. Louis da Nord so people in that area will have clean water to drink, instead of the bacteria-filled water they drink now. You can read trip updates on their blog and pray for them and the people they're helping.
2) Bridge 410
My church's trip to Haiti was coordinated with the help of the wonderful people at 410 Bridge. If you would like to go to Haiti to serve or if you would like to send an entire team to Haiti, they can help you do that. If you can't go, donate. Details are on their website.
3) A Home In Haiti
Shaun King, pastor of Courageous Church in Atlanta, has been out front leading efforts to provide tents to people in Haiti who lost their homes in the earthquake. aHomeInHait.org recently shipped 3,000 tents to Haiti. Now they're moving on from Phase 1 which was providing temporary housing, to Phase 2 which is to provide permanent, sustainable homes, schools, orphanages, and more!
4) Fellowship of Believers
My friend, Dan King, is helping to lead a team of 48 people – most of them students – from Fellowship of Believers church in Sarasota, FL. They are heading down to Port-au-Prince in August where they'll be doing a VBS with the children, interacting with local teens, painting an orphanage, distributing food to the poor, and doing other outreach and local ministry activities. You can read more about their trip and help support it here in The Haiti Diaries.
Do you have any more stories to tell of what's happening now in Haiti? Share them here.
What are you doing to help the people of Haiti? If nothing, consider supporting those who are on the ground server.