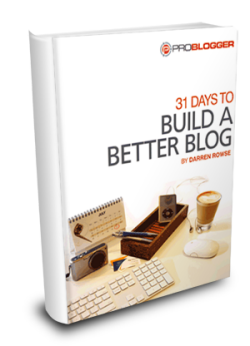 Watch out!  You're likely to see a lot of changes around here over the next month.  That's because I'm going to blogging school.
OK, so not exactly.  But I am leading a group of 50 bloggers and counting who are going through Darren Rowse's (aka ProBlogger's) 31 Days to Build a Better Blog ebook over on the Christian Web Trends blog.
Each day for 31 days we are reading a lesson and doing an assignment that will help us to improve our blog and our blogging skills.  Additionally, there will be a blog post published to Christian Web Trends each of the 31 days where we'll discuss the lesson and assignment.
I am tremendously excited about this because it combines two things I'm very passionate about: communication and helping people develop.
But that's not all… 😉
You're Invited
If you'd like to not only learn how to take your blog to the next level but actually do it. And not just do it, but do it with a great group of bloggers who genuinely want to help each other get better, you still have time to read the details & sign up.
Monday was day one, so you'll have a little catching up to do, but you can do it.
Speaking of Day 1
Day 1's assignment was to write an "elevator pitch" for your blog.  Describe your blog in a way that will give them an idea of what it's about and make they curious enough to want to know more in the in the time span of an elevator ride, about 30 seconds or 100 words.
In the process of doing that, I also wrote the About page for this blog.  Something that was missing for the first 3 years of this blog.
What do you think?