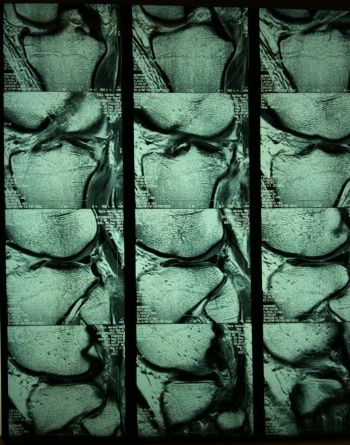 This morning I met with my orthopedic doctor to review the results of the MRI I got after my soccer injury.  Unfortunately, the results are not good.
I've got a torn ACL and partial tears in both the lateral and medial meniscus.
I'm scheduled for surgery next Thursday, April 15th.
On the bright side, it will probably seem painless compared with paying taxes that day.
If you'd like to know more details about the injury, rehab, my biggest concern, and five things I'm thankful for, keep reading.
My understanding is that the big wild card is going to be the meniscuses. If a meniscus tears away from the blood supply then it's not possible to repair it and it has to be removed.  If it's not torn away from the blood supply, then it can be repaired, but the recovery time is much longer.  The doctor won't know whether the meniscuses can be repaired until he's doing the surgery and able to see them.
Once the surgery is over, then the real fun begins.
I was surprised by everything that's going to be involved in the rehab.
Physical therapy starts the same day as the surgery.  A physical therapist will come to my house that day and the next 2.
Monday 3/19 I go back to the doctor for the post-op appointment.
Then later that Monday I go to the physical therapy center, where I'll have an hour of physical therapy 3 times a week for the next 4 weeks.
As if that wasn't enough, they are also delivering one of these "cold therapy" gadgets and one of these gizmos so I can do my own rehab in between PT session.
Are you still with me?
This is obviously going to require a lot of adjustments
There's a lot of time involved in all this physical therapy.  I am going to have to take time off of work and adjust my work schedule during the weeks after the surgery.
I won't be able to play soccer or run for months.
I'll have to find other ways to do cardio workouts and try to stay in shape as best I can.
My knee modeling career is probably over.
The good news is that I should be able to walk fine in July when we're planning our trip to Kenya, so I won't have to cancel the trip.
My biggest concern in all of this…
…is for the extra burden it is going to put on Jennifer.  She is already so busy doing the lion's share of the care for our 3 kids, her diabetes research work, and her serving in the early childhood ministry at our church.
I hate the thought of having to ask her to drive me to and from physical therapy 3x a week for 4 weeks.  Plus not only am I not going to going to be able to help out with kids and housework as much as I do now, but I expect I'm going to need her help to take care of me.
Jennifer will go from sharing the load to not only carrying the load but carrying me as well.  I don't like that. 🙁
But despite it all, I'm not discouraged.  In fact, what comes to mind is
Five things I have to be thankful for
Knee surgery is not that bad.  There are a lot of people who have a lot bigger health challenge than this.
I have a wonderful wife who is going to go through this with me.
I have a great job that allows me to work from home and work flexible hours.
I have a fantastic extended family & lots of good friends who I know will be praying for me and encouraging me.
We know that in all things God works for the good of those who love him, who have been called according to his purpose. (Romans 8:28)  So, I look forward to the good God is going to do through this situation.