Leading Small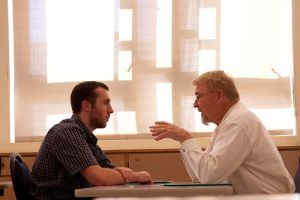 It seems like most people have the idea that great leaders are gifted speakers, and that the most important part of leadership is inspiring the masses. Think Martin Luther King, Jr., John F Kennedy, Ronald Reagan, Barak Obama, even Jesus.
Michael Hyatt has a great post this morning about The Leadership Strategy of Jesus in which he points out:
Jesus had a much different leadership strategy. His goal was not 'reach' or popularity… Instead, Jesus focused on true depth and long-term impact.
Jesus' focus on depth and long-term impact was manifest in the way he trained the 12 disciples. That is where he invested the bulk of his time. Even when he was teaching the masses and healing people he encountered along his journeys, he had his disciples there with him watching him, and then later debriefed with them.
This also ties in with my post yesterday: Leadership Lessons from the Dancing Guy Video.
Dancing Guy started his public "movement" all by himself. He was lucky it succeeded.
In contrast, Jesus started his movement by personally inviting his disciples to join him one or two at a time And that was likely after he had already developed a relationship with each of them. Jesus had put together his core followers long before the public part of his ministry began.
Where is the focus of your leadership? Is it on leading big or leading small?
[image by echo0101]