Who was Saint Patrick?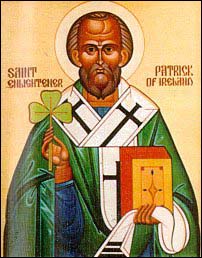 Happy St. Patrick's Day everyone!
For most people St. Patrick's Day if celebrated at all is simply the next holiday to decorate for after Valentine's Day, or an excuse to break out the green clothing and drink some green beer.  All in good fun I suppose.
I've had a few green beers myself over the years.  While college at Valparaiso (Indiana), I had the opportunity to go to a couple St. Patrick's Day parades in Chicago where they dye the Chicago River green. 
But do you know who the real Saint Patrick was?
If not, he was a pretty amazing guy…
Son of a British nobleman, at 16 years old Patrick was kidknapped by a gang of Irish raiders and carried off to Ireland for slave labor.  During his slavery he found faith in God and was strenthened through prayer.  After 6 years he escaped and made passage on a ship leaving Ireland.  But God gave him a vision and a passion for the people who had enslaved him.  Patrick eventually returned to Ireland to share the Jesus Christ with the people.  Despite great danger, including imprisonment and death threats, Patrick boldly challenged the religious and political leaders of the time and faithfully served the people of Ireland, forever changing the course of history in Ireland.
A more detailed history of St. Patrick can be found here: 
Now you've a good conversation starter when you're admiring co-workers' "Pinch me, I'm Irish" buttons.
What does St. Patrick's Day mean to you?  How will you be celebrating it?