Win a Free Copy of Steering Through Chaos by @ScottWilson7, @Zondervan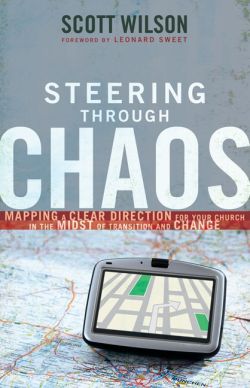 Today I'm reviewing, discussing and giving away a free copy of Scott Wilson's new book Steering Through Chaos.  Keep reading to learn how to win a copy for yourself.
In Steering Through Chaos: Mapping Clear Direction for Your Church in the Midst of Transition and Change, Scott Wilson, senior pastor of the Oaks Fellowship in Dallas, TX provides guidance for pastors and church leaders on how to navigation transitions.  In the first chapter Wilson explains that transition and change are necessary to follow God's calling for a church.  Each of the nine subsequent chapter constitutes a key element in navigating transition.
1.    Crystal-clear vision
2.    Timing change for growth
3.    Authentic communication
4.    Corporate prayer
5.    Recognizing opportunities and avoiding obstacles
6.    Celebrating victories
7.    Finding great coach
8.    Keeping the vision fresh
9.    Endurance
If a church is going to grow, it is going to have to make some difficult transition.  Steering through Chaos doesn't go into strategies or techniques for church growth, but rather provides excellent insight into God's character and how people respond to change to help pastors and church leaders make difficult transitions successfully.
Favorite Quotes
Your church will grow only to the level of your pain threshold. – Gerald Brooks (P 22)
We are like drivers on a winding road in the night.  Our headlights show just enough for us to make the next decision. – J.I. Packer (P 33)
Vision isn't something I determine – it's something I discover as I walk with God day after day. (P 52)
Every time you say yes to something else, you're effectively saying no to me. – God (P 55)
Waiting until the church begins to decline may be safer but it forfeits time and momentum. (P 64)
Vision is rock solid; strategy is flexible. (P 71)
People aren't here to help me fulfill the vision.  They are the vision! (P 77)
20% of leadership is making the right decisions.  80% is appropriately communicating those decisions. – Tim Stevens (P 83)
The condition of the church may be very accurately gauged by its prayer meetings. Charles Spurgeon (P 101)
Gifted leaders in any field have the ability to see open doors where others only see walls. (P123)
I'm seldom worried or upset if someone tries and fails.  I'm only really concerned if I don't see any effort or creativity. (P 133)
Celebration says, "That vision is becoming a reality!" It generates tremendous momentum and ultimately fosters and even higher and clearer vision of the future because each moment of celebration intuitively tells people, "God has done it once, and he can do it again." (P 147)
Let's learn to help each other tell great stories… specific, meaningful, short, personal, fit with your vision and values. (P 151-2)
The greatest leaders of all time (Moses, Joshua, David, and the rest) lived in ambiguity.  The difference is hat they accepted their situation and trusted God to give them hope and help I his timing. (P 188)
Poor communication leads to heightened frustration and fear because it fails to manage the expectations of others. (P 190)
Personal Thoughts
There were a number of important lessons in Steering through Chaos for me.  Perhaps the most important was that God provides a clear vision for each church in his own timing.  This has several implications.
It's not up to the senior pastor or others to develop the vision.  Their job is to listen to God and discover His vision for the church.
God will not send mixed messages.  If church leaders are listening to God, he will make the same vision clear to all of them.
If church leaders are genuinely seeking God for a clear vision and He is not providing one, this doesn't mean the leaders are bad leaders.  It may mean God is testing the leaders to wait and trust him.
The second area where I had a lot of take-aways was related to communication.
One-on-one communication with key leaders is critical.
Cascading the casting of vision from the top down is important.
Providing regular, authentic communication about progress is essential.
Celebrating along the way is critical.
Discussion
How did the current vision for your church come about?
How did you communicate that vision to church leaders, volunteers, and the congregation?
How have you continued to communicate & celebrate progress as your church moved towards the fulfillment of that vision?
Get a Free Book
If you'd like a free copy of Steering Through Chaos, all you have to do is
Retweet this post or share it on Facebook, and
Post a meaningful comment to this post that contributes to the conversation (include your Facebook or Twitter usename in your comment so I can connect your comment to your share/tweet).
One person will be randomly selected the morning of Wednesday 3/17 to receive a free copy of Steering Through Chaos.