Join the Trust Agents group blog project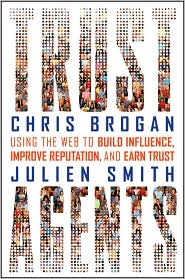 I wanted to let you all know about a great opportunity at OurChurch.Com's Christian Web Trends blog.  We are facilitating a group blog project for Chris Brogan and Julien Smith's new book Trust Agents: Using the Web to Build Influence, Improve reputation and Earn Trust.  Basically, a bunch of us bloggers are joining together, each taking a different section of the book, blogging about it, and then discussing it by commenting on each others posts.  And there's room for some more bloggers to join us.
If you are a leader in any capacity – at work, in church or ministry, or in the community I think you'll learn a lot including a lot of practical ideas that will help you improve your leadership and influence.  And if you're a blogger, it's a great opportunity to connect with other bloggers and introduce your blog to a bunch of new readers.
For more info or to sign up see the announcement on the Christian Web Trends blog.