WCA Leadership Summit Session 9: Tony Blair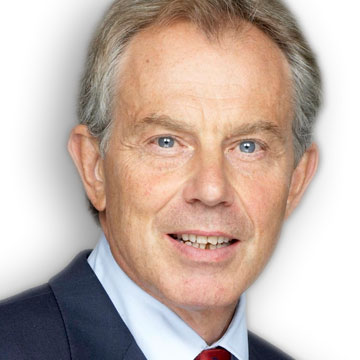 One of Great Britain's most internationally recognized statesmen, Tony Blair served as Prime Minister of Great Britain and Northern Ireland from 1997 to 2007. During his tenure he helped transform Britain's public services in education and health care and is widely credited for his contribution towards assisting the Northern Ireland Peace Process. He continues to be active in public life today, working as a key leader in the international community's efforts to secure peace in the Middle East. He also advocates on issues of personal interest, including Africa and climate change. In 2008, he launched the Tony Blair Faith Foundation, which promotes understanding between the major faiths and increases understanding of the role of faith in the modern world.
Notes from this session follow.
Have never been one without self-doubt. Felt very normal. But felt compelled to step out.
The conventional wisdom can just be the comfortable thing to do. The comfortable thing to do can be the wrong thing to do.
Part of leadership is having an "irreducible core," what you won't compromise on, even if it's not popular.
It was great assistance to me to be prepared to walk away. The position matters, but not more than doing the right thing.
Was faced with the decision to enter inter military conflict 4 times in his time in office.
Faith and it's role in the world is an enormous force for good (fighting poverty) and bad (division).
People of different faiths can take action together.
Difference between tactics and strategy. Strategic objective based on principle. Have to be prepared to make tactical compromises.
Had to decide whether they as a country would react by pointing the finger or by unifying as a country. Said we are going to come together as a country. All Brittons regardless of faith.
Deal with criticism and disappointment by counting your blessings.
Leadership is a blessing… a gift you've been given to help others… no matter how challenging and painful it is worth doing. It is your duty to do it… Whatever it is, without a leader things don't get done. The joy of getting things done makes the pain worthwhile.
What is my "irreducible core?"