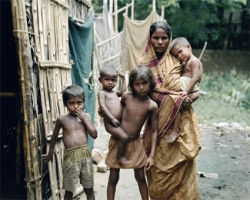 Estimates are about half the world's population lives on less than 2 dollars a day.  Every time I see a commercial asking me to sponsor a sad-looking, hungry child or see news video of relief workers distributing grain to starving people I get this uncomfortable mix of emotions – sadness, anger, some guilt that I have so much.
My instinct is to send money to help or sign a petition for 3rd world debt relief or do something that might help to end world hunger.
Those are all good things, but I was reminded in a book I'm reading that poverty is often a symptom of a larger spiritual problem.
You can probably make the case that a lot of the underlying causes of poverty in the world – corruption, exploitation, transmission of some diseases – have even deeper spiritual causes.  But here is one very real example where the cause and effect are unmistakable.
From the book Revolution in World Missions by K.P. Yohannan:
The key factor – and the most neglected – in understanding India's hunger problem is how its belief system affects food production.  Most people know of the "sacred cows" that roam free, eating tons of grain while nearby people starve.  But a lesser-known and more sinister culprit is another animal protected by religious belief – the rat.

According to those who believe in reincarnation, the rat must be protected as a likely recipient for a reincarnated soul… Large scale efforts of extermination have been thwarted by religious outcry.

Rats eat or spoil 20% of India's food grain every year.  A recent survey in the wheat-growing district of Hapur in North India revealed an average of 10 rats per house.

…the 20% loss from rats amounts to 26.8 million metric tons… [imagine] a train of boxcars carrying that amount of grain.  With each car holding about 82 metric tons, the train would contain 327,000 cars and stretch for 3,097 miles… longer than the distance between New York and Los Angeles…

Thousands of lives and billions of dollars go into social programs, education, and medical and relief efforts… Yet the problems of hunger, population and poverty continue to grow.  The real culprit is not a person, lack of natural resources or a system of government.  It's spiritual darkness.
That doesn't mean we ignore the material needs of the billions of people in this world who live on the edge of starvation.  It's important to provide food and other relief.
But it's even more important to recognize that focusing primarily on physical needs is not going to end poverty.  Helping people to end their spiritual poverty by introducing them to the true God who gives grace, hope, and wisdom through Jesus is most important.
The cool thing is that when we help to end people's spiritual poverty, often their physical poverty is reduced as well.
Give a man a fish and you feed him for a day.  Give a man The Fish and he no longer violates human rights, takes bribes, enslaves workers, exploits children, or worships rats as they eat and defecate in his rice.
What's your take on the priorities of helping people spiritually, physical, and in other ways?