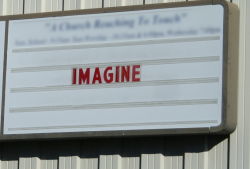 January is the time when I usually reflect on the past year, assess goals that I set the previous January, and set new goals for the new year.  Ideally I'd like to do that during the week between Christmas and New Years.  Unfortunately, once again I had projects for work which were due in early January and I ended up working crazy hours around the holidays.  Only in the last few days have I had a chance to come up for air.
So, Friday morning I finally got around to looking over the goals I set for 2008.  The last few years my goals haven't changed much from one year to the next.  Usually I'll just copy the previous year's goals and then after some thought and prayer delete a few goals and add a few new ones.  I was about to something like that when I realized it was 6 AM and I needed to head out on my Friday morning run in order to get back before the kids wake up.
While on my run I noticed a church sign.  Now my experience is that church signs are notorious for cheesy, irrelevant, and even offensively trite quotes, but this one made me think.  It simply said…
IMAGINE
(Cue the John Lennon music)
I realized that too often when I set my goals, I start with the clutter of existing goals and obligations.  I start with last year's goals and then think, "Yeah, that seems to be working.  I'll just keep doing that."  Or "I think I can do incrementally better next year."  Or "My plate is already so full, I can't possibly add anything new."   But if my goals for this year are the same or incrementally higher than last year, then I should expect at the end of the year to basically be in the same place or perhaps an incrementally better place, right?
So, what if instead of starting with existing goals, current obligations, and what I'm already doing, I start with a blank sheet of paper… and imagine.
Imagine who I'd like to be a year from now physically, spiritually, and mentally.
Imagine what I'd like my relationship with God to look like a year from now.
Imagine what I'd like my relationship with my wife to be like a year from now.
Imagine what I'd like my relationship with my kids to be like a year from now.
Imagine what Id like my job to look like a year from now.
Imagine how the difference I'd like to make in other people's lives over the course of the year.
Imagine the experiences I'd like to have this year.
Forget for a moment what seems possible or impossible.  Don't get into how to make it happen yet.  Resist the temptation to immediately evaluate whether it's a good idea or not.  Just imagine.
Write down these dreams.
Then in a couple of days I'll come back and balance them with reality and set goals.
What are some of your dreams for 2009?