Leadership Summit 1: Bill Hybels – The High Drama of Decision-Making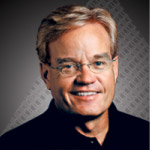 Bill Hybels is the founding and senior pastor of Willow Creek Community Church and chairman of the board for the Willow Creek Association. He convened The Leadership Summit in 1995 following a God-given prompting to help develop the spiritual gift of leadership in the local church. A highly sought-after conference speaker on issues related to Christian leaders, Hybels is the best-selling author of more than 20 books including Courageous Leadership and the upcoming release, Axiom: The Language of Leadership.
Notes from his talk are included below.
4 questions Christian leaders ask when making decisions
1) Does the bible have anything to say on this?
Some decisions are easy because the Bible speaks clearly on the issue.
2) What would smart advisers advise me to do?
Proverbs 11:14
3) What have I learned from past decisions?
This is why journaling is so important.  Chronicling your decision-making process adds to the vault of your wisdom for future decisions.
4) Is the Holy Spirit prompting me?
Romans 8:6 – When you're in step with the Spirit it leads to life and peace.
If the decision turns out well, you thank everyone you can think of.  If the decision turns out poorly, you blame no one and take responsibility.
Taking responsible for poor decisions is what spurs us on to learn, grow, and make better decisions in the future.
Some leaders create their own principles and axioms that are the culmination of all 4 of these questions.
Axioms
Abraham Lincoln – The best way to destroy my enemy is to make him my friend.
Bob Galvin – Create motion for motion's sake.
Colin Powel is the king of axioms. (see Summit notes from last year)
Bill Hybel's Axioms
Vision leaks
All I have to do is get the right people around the table.
Facts are your friends (Reveal)

Huge difference between growing Christians who want God to bless their ministry and Christ-centered people who have died to self and make themselves available to whatever God calls them to do.

When something feels funky, engage. (Problems won't be solved by ignoring them)
Leaders call fouls. (Sometimes on him or herself)
Take a flier. (take a calculated risk every once in a while)
This is church. (occassions when the church is getting things right)