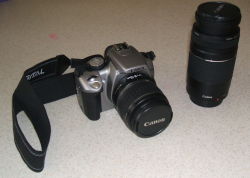 I love the outdoors and I love to learn, plus OurChurch.Com is doing a Photo Month focus right now, so I've decided to take up photography.   I was already considering the Canon Rebel XT and a 75-300 mm telephoto lens, and then Circuit City decided to offer a $150 discount if you buy the two together this week.  So, I bought my first entry-level digital SLR camera.  I'm sooooo excited!
Tuesday, my wife Jennifer and I had lunch together at Kapok Park in Clearwater and I had a chance to take my first photographs with the new camera.  I've included a few below.  I used the automated settings and auto-focus and some are a little blurry, so be nice.
I'm still figuring out the best format for including photos in this blog as well.  Today I cropped and resized the images to 800×600 and saved then at an 80% quality level to reduce the load time.  Then I included thumbnails on this page that link to the larger files.
If you enjoy photography, I'd be interested to know what you love about it and what first drew you to it.
| | | | |
| --- | --- | --- | --- |
| Great white egret | | | A wetland flower of some sort |
| Tri-colored heron | | | Limpkin |