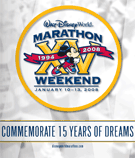 In just a few hours my wife, 3 children, and I will be on the road for the 2 hour drive to Disney World.  And 24 hours from now I'll be standing around the starting line of the Disney Marathon waiting for gun to go off.
Shifting my sleep cycle seems to have worked.  I ended up going to bed at around 9:30 last night.  I set my alarm for 4:30 but woke up at 4:20.  I think tomorrow morning I'll set my alarm for 3:15 and arrange to have a taxi at 3:45.  If I have everything laid out and just need to get dressed and eat something, I should have plenty of time.
The Weather Factor
I'm a little disappointed in the way it looks like the weather is going to turn out.  Yesterday morning I looked at the forecast and saw there was supposed to be a low of 50 on Sunday and a high of 70.  I was really excited about it being 50 degrees at the start of the marathon, because that's about the perfect temperature.  I even when out and bought a pair of light gloves and packed my ski headband.  Then last night I looked at the hour by hour forecast on weather.com and it says at 6 AM it's supposed to be 62 degress and 97% humidity.  There will be a cold front moving through and if it gets down to 50 degrees on Sunday it won't be until the end of the day.  Oh well, at least its supposed to be cloudy.  Hopefully it won't rain.
Video Documentary 


I decided I am going to try something I don't know has ever been done at the Disney Marathon.  I am going to run with a video camera to document the experience.  Yesterday, I happened to be driving by my local CompUSA, which is closing down and has everything 15%-30% off.  I stopped in and found a Pure Digital Flip Video camcorder at 15% off.  This thing is about the same size as a still camera and stores an hour of video on internal memory.
While browsing forums discussions on Disney lots of people have recommended bringing a camera on the marathon.  A lot of the Disney characters are out along the route and you can get your picture taken with them.  When I've seen people write that, my thinking has been I don't know that I would want to stop running, hand my camera to someone else, pose for a picture, and then start back up again.  And considering how crowded the marathon reportedly is it's likely you would have to wait for a person or two in front of you as well.  So, now I'll just video tape the characters as I run by them.
I read a very cool mile by mile report of the Disney Marathon by Charles Wait and my hope is to do something similar but do it on video.  I want to capture the sights and sounds of the marathon itself, but also be able to record my thoughts as the marathon progresses and how I'm feeling.  It hope it will also give me something else to think about to pass the time.
Looking for a Pace Team
After talking with a few other people, the other thing I'm going to try to do is run with a pace team.  I've been placed in corral L, which I assume is one of the last if not the last corral.  I'd lke to run with a 4 hour pace team, but I don't know if I'd ever see them starting way in the back.  When I stop by the expo today to complete my registration, I'll see if I can get moved up.  Generally, you have to have some kind of proof of time in a previous half marathon or marathon.  Since I never received anything in writing from the Blue Moon Half Marathon, I don't know if they'll move me up, but I'll give it a shot.
Well, it's 5:45 and I've got to go pack the car…