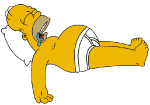 Yesterday, I started looking around the web for more advice specific to the Disney Marathon.  The official  Disney Marathon website is good and offers a lot of important information, but I was looking for some unofficial information from people who have done the Disney Marathon.  I found a very helpful site where I got most of my questions answered.  I'll talk about that in a bit, but there's one big question I'm thinking through this morning…
The marathon starts at 6 AM, and the official Disney Marathon materials say runners should be in the Epcot parking lot by 4 AM.  That means waking up somewhere in the neighborhood of 3 AM.  I'm used to going to bed around 11 PM.  And considering I'll be sleeping in a hotel and excited about the marathon the next morning, chances are I'm not going to sleep all that well.
It's a bit concerning to me that I'll be taking on the most physically demanding task of my life and lack of sleep could be a significant factor.
Great Disney Marathon Site
Yesterday, while searching online for information specific to the Disney Marathon, was very excited to find DisneyRunning.com which has a excellent, highly trafficed forum.  Yesterday, I posted several Disney-specific questions about how to get to the marathon from a non-Disney hotel, when do I really need to be there, when should my family try to get to the finish line to get a seat in the bleachers, and so forth.  I got responses from several Disney veterans.  (Thank you!)
Back to Sleep
So, as I was saying about sleep… I am an early riser, but the prospect of getting up at 3 AM has me concerned that I'll be really tired even before I start the marathon.
I've started trying to shift my sleep schedule.  Monday night I went to bed at 10.  I got up at 5 and did my last run before the marathon, a short 3 miler.  Tuesday and Wednesday I went to bed again at 10 and set my alarm for 5.  (Having 3 kids under the age of 7, a couple of hours of quiet before everyone else wakes up is kind of nice.)
I think I'll try to go to bed at 9:30 tonight and get up at 4:30 tomorrow morning.  Then Friday night I might shoot for going to bed at 9.
It will be tough to go to bed at 9 Friday night.  My kids don't always get to bed before 9.  We'll be doing the 2 hour drive from our home to Orlando Saturday morning and I know there will be a strong desire to get everything packed the night before.  My wife is an early packer, but I usually don't get to packing my bag or the car until after the kids go to bed the night before we leave.
If I get up at 4 AM Saturday morning, though, that should give me plenty of time to pack the car and still leave at a reasonable hour.  And it should leave me tired enough to go to bed by 9 PM Saturday night.  If I can get 6 hours of sleep the night before the marathon hopefully that will be good enough.  It's probably the best I can hope for.
I'd be curious to hear from other marathoners.  Is sleep the night before the marathon a big deal?  Do you try to shift your sleep schedule the last few days before the marathon?  Any other sleep-related advice?