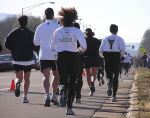 It's been 3 months since my last blog post.  I added several new things to my plate in the fall including training for my first marathon, helping to coach my son's soccer team, and serving in a couple of new capacities at church.  Those things along with work and family just became too much.  I just couldn't do it all.  Some things had to give, and blogging was one of them.
I did keep up with my marathon training (more or less), and now my first marathon is less than 4 days away…
I ran my first half marathon, the Blue Moon Half Marathon in Dunedin, FL, October 29.  I finished around 2:04:20.  See the results. 
My best training run was probably December 1, a 20 miler.  I reached the 13 mile mark at 1:51, just over an 8:30 pace.  I slowed down after that, but still finished the 20 miles in 3:06, for an average pace of 9:20/mile.
Training became difficult in December, though.  In addition to the normal busyness of life, plus the busyness of the Christmas season, I had a huge work deadline December 12.  I actually worked 90 hours that week.  After working 18 hours on Monday and then sleeping only 3 hours, I still managed to do a 6 mile short run.  But after working 2 more 18 hour days on Tuesday and Wednesday I couldn't run Thursday morning.  I did a long run Sunday morning, but I ended up cutting it short (after about 15 miles if I remember correctly).
The following weekend my wife, 3 kids, and I joined my wife's family on a cruise to the Bahamas.  The cruise was good, but not very condusive for a long run.
I did my last long training run Saturday December 29.  I decided I was going to do 22 miles no matter what.  Everything was going well through the first 16 miles.  I was running just under a 9 minute mile pace to that point.  Then I had to visit a restroom for several minutes.  After that my legs just felt so heavy.  I ended up alternating running for a minute or so and then walking for a minute or so for miles 17-19.  Then I just walked the last 3 miles.  The 22 miles took 4:08. 🙁
So, I'm a little disappointed in how I finished my training.  When I did my first run of 20 miles and finished in 3:06, I started thinking that maybe after another month of training I would have a shot at doing my first marathon in under 4 hours.  I know that's not going to happen now.
But I'm still excited about the marathon and very much looking forward to the experience.  At this point my goal is to simply finish my first marathon.  I will try to avoid walking as much as I can, but I'm not shooting for a particular time.  Just finishing will be quit an accomplishment. 
With less than 4 days go go, I'm trying to get as much rest as possible and trying to get as much advice about running a marathon, and in particular about the Disney Marathon.  So, if you have any race-day tips, especially if they're specific to Disney, please post 'em.