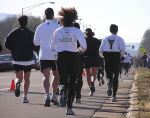 Saturday I made my first attempt at a 13-mile training run.  It was my first long run since learning last Saturday that I lost about 8 pounds during a 12 mile run, so I did another sweat rate test and continue to experiment with ways to stay hydrated.
Sweat Rate Test
Last Saturday I estimated that I lost about 8 pounds of fluids during a 12-mile run, but that was just an estimate because I didn't weigh myself before hand.  This would be my first long run weighing myself both before and after.  I set up routes so that I would come by my house about every 3.3 miles, so I could drink a sports drink an know exactly how much I was drinking.  This is how it worked out:
Weighed in at 164.5 pounds
Drank 32 ounces of water
Ran a 3.2 mile out and back
Drank 16 ounces of sports drink
Ran a 3.3 mile loop
Drank 16 ounces of sports drink
Ran a 3.3 mile loop
Drank 16 ounces of sports drink
Ran a 3.2 mile loop
Weighed myself – 162.0 pounds
164.5 pounds minus 162.0 pounds equals 2.5 pounds (40 ounzes) lost.  Add to that 80 ounces of fluids consumed and that's 120 ounces of fluids lost during the 13 mile run.  Divide that by 13 and I had a sweat rate of 9.2 ounces per mile.  That's right in line in line with the 9.3 ozs/mi measured Thursday.
Half Way Home
Drinking 4 times as much as last Saturday (80 ozs vs 20 ozs) made a huge difference in my run.  Last week I had to stop to walk after 9 miles and alternated between walking and running the last 3 miles.  This week I didn't stop to walk the entire 13 miles (except while drinking).  I was able to maintain a 10-minute mile pace throughout the run and completed the 13 miles in 131 minutes compared with 12 miles in 139 minutes last week.
It was definitely my best run so far.  I reached the 13 mile milestone, did the full run without stopping to walk, and made a big stride towards figuring out the hydration issue.