I apologize again for my infrequent blogging.  I'm way over-committed right now.  And while it kills me not to blog, blogging is probably the only thing I can cut back on where someone else won't kill me.
Because of working hard and not getting as much sleep as I need, I hit a bit of a dip in my marathon training.  But things seem to be on an upswing now and I surpassed sentimental milestone this morning.
The Dip
This past Saturday I had my worst training run so far.  I set out on a long run of 12 miles.  I was doing fine for the first 7 and I think I was still averaging better than 10 minute miles through the 8th mile.  But after that I was so whooped I alternated running and walking for the last 4 miles which took another hour.  (Ugh!)
I was just exhausted from the week and a bit frustrated with some things, so I did my best to get some extra rest over the weekend.
Tuesday's Short Run
By the end of the weekend I was feeling better physically.  Tuesday I did another 5 mile short run and set my best Tuesday time so far – just under 42 minutes.  (I don't seem to be fully recovered from Saturday's long run or Sunday's soccer game by Tuesday, so my Tuesday runs have always been a couple minutes slower than my Thursday runs.
The Pin-Back Button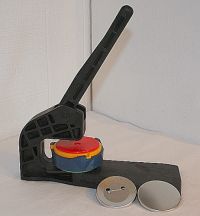 A few weeks ago when I increased the distance of my short runs to 5 miles I recalled a memory from my childhood.  Back in the fall of 1977 my parents moved my family from Florida to Brooklyn, NY so my father could take a job as a youth pastor.  Shortly after the move, my dad took up running.  He also got one of those pin-backed button making kits.  Looking back on it, I think my dad was addicted to that thing.  He would give out buttons for every event and had a big box of all the extras.
I remember going into his office lots of times and seeing a string of these buttons hanging from a bookshelf.  I only remember one of the buttons on that string which read:  "I ran 5 miles in under 40 minutes!"
This morning, for the first time in my life I ran 5 miles in under 40 minutes.  Today also just happens to be my dad's 63rd birthday.  Pretty cool if you ask me.
My dad has been an exceptional role model to me over the years in many ways – as a father, a husband, and a Christian.  Today I add "as a runner" to that list.  Thanks Dad!  And Happy Birthday!