Marathon Training Update: Does training with others help?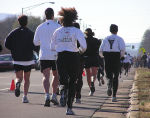 This morning I did another short run of 5 miles, this time in 41 minutes, shaving 2 minutes off my Tuesday time.  I am getting close to a sentimental goal for my 5 mile time, which I'll talk about when I reach it, hopefully next week.  Not much else to report on my training.  Looking forward to upping my long run another mile to 11 miles this Saturday.
Earlier this week I heard a speaker who was espousing the benefits of training with a partner, which led to my question for today…
In his talk he mentioned 5 benefits that come from  working out with a partner (not specifically marathon training):
Greater results – Spur each other on to be better.
More consistency – Accountability, no excuses.
Higher motivation – Encouragement, adds to the "fun factor."
Better execution – Partner helps you correct things, see blind spots.
Increased skill set – Learn from each other.
To this point I have done all of my marathon training runs by myself.  I think I've gotten some of these benefits from other people online – through this blog and forum discussions.  I've certainly gotten (#3) higher motivation and encouragement from talking with others online and (#5) I've learned a lot.  So, I want to through these questions out for discussion:
Do you train with others?  If so, how much does it help and in what ways?
If you've run a marathon before, did you run it with others?  If so, how much did that help and in what ways?