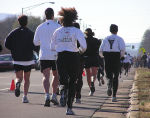 A couple of weeks ago in one of the forum discussions I initiated about The Non-Runner's Marathon Trainer Book, someone commented, "Still trying to figure out why a non-runner would be training for a marathon…"  To which I replied:
"Because it's the quintessential personal challenge. It's an extreme mental and physical challenge and I want to push myself to see if I can do it. In addition to the health benefits that come from the physical training, there are the mental health benefits that come from the psychological training involved. The development of character traits like perseverance, endurance, positive attitude, and goal setting benefit a person in all aspects of life."
One of the replies to that post said something along the lines that marathon training won't build those character traits; if you're able to complete the training and the marathon it shows you already have those traits.  Since then the question has been bouncing around my head…
Does marathon training build or reveal character?
Training Update
Before I get to that, though, I did another short run this morning of 5 miles.  After struggling on the last two Tuesday runs I was ready for a real perseverance test this morning.  In the last two weeks I've come to the conclusion that by Tuesday morning my legs still haven't recovered from the Saturday morning long run and Sunday evening soccer game.
However, this morning I was pleasantly surprised to be able to run the 5 miles in 43 minutes – the same pace as Thursday's run.   Perhaps the recovery techniques of an ice bath and chocolate milk immediately after the long run helped.  Very cool!  Since my Thursday runs have always been easier than the Tuesday runs I'm kind of quietly optimistic that perhaps I'll feel good enough to shave another minute or two off my 5 mile time on Thursday.
Now back to the question…
Does marathon training build or reveal character?
I believe the answer is "Yes."  Marathon training can both build and reveal character.
If you think about it, anytime we put ourselves to the test it reveals character.  When we face a challenge do we whine and complain?  Do we say we can't do it?  Do we quit?  Or do we give it our best shot, stay optimistic, and perseverance despite the fear, discomfort, or pain?  When the alarm goes off at 5 AM, are you going to hit the snooze or get dressed for that morning's run?  When there are 3 miles left on a long run, your legs feel as heavy as tree trunks, and your mind starts suggesting a shortcut to end the run early, are you going to take it or finish the full run?  There's no doubt marathon training reveals character.
In addition to that, though, the whole point of training is to push yourself a little farther each time so that your capabilities expand.  Physically, this is obvious.  Mentally and character-wise this is true as well.  Each time you push through and overcome fear or pain or self-doubt you grow stronger.  You become able to overcome bigger fears, pain, and self-doubt.  Each time you overcome the temptation to give up, your character expands.