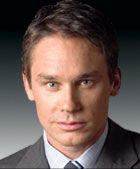 A consultant, speaker, and best-selling author, Marcus Buckingham is an expert on outstanding leadership and management practices. He has invested more than 17 years in researching the world's best managers, leaders, and workplaces.
Buckingham is author of four best-selling books, including his latest release Go Put Your Strengths to Work. In his books, he gives important insights to maximizing strengths, understanding the crucial differences between leadership and management, and fulfilling the quest for long-lasting personal success. He recently created a short film series called Trombone Player Wanted, which offers practical help to individuals in playing to their strengths. A graduate of Cambridge University, Buckingham addresses audiences around the globe totaling more than 250,000 each year.
Notes from this session continue below.
"Build on my strengths and manage around my weaknesses."
Gallop polled people in 2000, which do you think will help you be most successful building on strengths or fixing weaknesses?
US – 41% said strengths
UK – 38% said strengths
France 35% said strengths
Japan & China 24% said strengths
In our pursuit of excellence we tend to study and focus on problems. We ought to study success.
A lot has changed in 7 years.  A whole new field of study has emerged in positive psychology.
There are no success-based schools.
Video clip from Purnel School in NJ.  Affinities program – helps kids understand their strengths and what they like doing.  Then they share their strengths with their class.  Changed the culture of the school.
In 2007, asked the same question and 41% in US said strengths again.
What % of a typical day do you spend playing to your strengths?
US – 2005 – 17%, 2006 – 14%, 2007 – 12%
People aren't our greatest assets, people's strengths are our greatest aspects
How do we move that number?

Change the systems
Change yourself.  One of the smart things the airlines tell us is to put on your own oxygen mask first before you put on someone elses
3 Myths
Myth 1: As you grow your personality changes (66% of people believe this).

Truth: As you grow, you become more of who you already are.
The challenge is not to change your personality (like competitiveness) but to channel it.

Myth 2:You'll grow most where you're weakest

Truth: You'll grow most in areas where you're already strong
70% of parents think they need to focus where their child is failing than where they're succeeding
Doesn't mean you ignore your weaknesses and failures
Need to challenge people in areas where they're good to be great

Myth 3: A great team member puts his strengths aside and does whatever it takes to help the team.

Truth: Great teams are made up of great specialists (loose summary)
Warren Buffet gave away $31B to Gates foundation. Why?  1) They can give it away better than I can.    2) Philanthropy is no fun for me.
3 Skills to Develop
1) Need to identify what your strengths are
Take a blank sheet of paper, divide it into 2 columns "Loved it" and "Loathed it," carry it around with you for a week and write things down in those 2 columns
4 simple signs of a strength

Success
Instinct – any activity you're looking forward to doing
Growth – Time flies by and you can focus on it.
Needs – Fulfilled a need of yours

Need to pay close attention to how you feel about activities.  What you feel good at you'll accel at.
Lots of appetite but no aptitude.  We call those hobbies.
Pick three items from the "I loved it column"
Write in your own words a statement that starts with "I feel strong when…"
Not necessarily what you're good at but what makes you feel strong.
2) Each week have a strong week plan – 2 ways to play to your strength
3) Need to be able to talk about your strengths without bragging and your weaknesses without whining.
"And the day came when the risk it took to remain tight in th ebud became greater than the risk it took to blossom." – Anais Nin
3 Things I Believe 
Everyone has strengths
Everyone's strengths are different (?)
Everyone wins when you learn to play to your strengths 
Wow!  A lot of great stuff in this session.  What impacted you the most?  BTW, if I missed anything or if there are mistakes in the notes, please let me know.