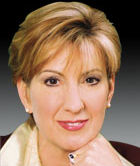 One of the world's most admired business leaders, Carly Fiorina served as president and chief executive officer of Hewlett-Packard from 1999 to 2005, reinventing the firm in order to compete in a rapidly changing business landscape. Under her tenure, HP improved its cost structure and profitability, doubled its revenues, and achieved the highest rate of innovation in its history. She details this experience in her 2006 memoir, Tough Choices.
Notes from her interview with Bill Hybels are included below.
Bill Hybels gave Tough Choices to the top 20 leaders at Willow and after reading it discussed it together.
"I was not a gifted child, but my parents were a gift for me."  What you are is God's gift to you, what you do is your gift to God.  Learned you have to do what is right no matter what.
She took extra classes college in philosophy and logic.  Found the human race collectively has learned.  In logic she learned the power of the right question.  Sometimes knowing the answer is less important than asking the right question.
Hated law school.  Realized that this was her life and she could do what she wanted to do.  Quitting was very difficult because she's not a quitter.
The idea of achieving a goal as a team is very powerful.  Nothing worthwhile happens with a single person acting alone.  Felt good to celebrate as a team.
She was a frightened, insecure child.  Overcoming fear was a big deal.  Every time you overcome fear, your ability to overcome fear becomes stronger.
Had to deal with being a female leader in a predominantly male industry.
People are afraid of people who are different than they are.  Accept that people will have fears and prejudices.  Don't allow other people's fears become your problem.  Reach beyond their fear and prejudice to find common ground.  That can be done by focusing on the problem.
Decided she wouldn't cry again over other people's prejudices and feelings towards her.
Motivating a team is everything.
Management is about producing results towards a known destination.  Leadership is about sending people in a new direction.
Trying something new forces people to face fear.
Give people a vision that is greater than their fears.
Couple vision with the hard reality of what it's going to take.  Can't sugar coat it.
Leadership is about seeing potential in others and unlocking it.
Every time someone took a chance on her it motivated her.
Leaders need to learn all the time.  Must provide learning opportunities for others.  Create experiences outside someone's comfort zone.
Must tell people you expect them to develop leadership skills.
Leadership requires passion and dispassion.  Passion – must have great heart for the mission.  Dispassion – leader must have objectivity to see people as they really are.
The "HP Way" was a double edged sword.  Founders codified the values of the company, which are great values, but the "HP Way" become a phrase people threw up when they didn't want to change.
She pushed very hard for innovation and risk taking.
During the transition at HP she was extremely open with the board and worked with them as a team because they needed to own the transition.
A team of people working on tough problems needs to deliberate in confidence.
There is a gift in every experience if we look for it, even bad experiences.