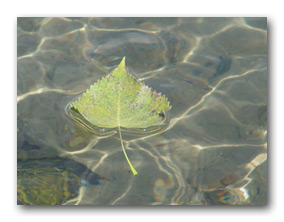 Today LiveIntentionally.org is launched.  What is this new website all about?  What is the motivation behind it? 
Most of us live life like a leaf drifting down a river, allowing the current of circumstances to carry us downstream without much thought as to where we're going.  And when we do think of the current of circumstances, we often think it's too powerful for us to do anything about.  After all what power can a little leaf have over a powerful river?

Perhaps when you were younger, you were idealistic and thought you could do anything.  You dreamed of doing great things.  You saw yourself as a young sapling beside a stream and envisioned yourself growing into a mighty oak.  Not only did you never imaging yourself drifting down the river, but you saw yourself changing the course of the river.  But now that seems so long ago.  Perhaps you compromised on your dream career, or your spouse turned out not to be the perfect person you thought he or she was, or you started drifting from your faith.  And now it seems like your course in life is set, a course that you didn't really choose, a course that chose you.
Or perhaps you are living a productive, successful life but you have this sense that you're not quite hitting on all cylinders.  There is something more, but you can't quite put your finger on it.
I believe most of us vastly underestimate our potential.  We underestimate our ability to proactively navigate life's circumstances.  We underestimate our capacity to grow and change.  We underestimate the influence we could have to impact others' lives and make this world a better place.
I believe every one of us could be so much more, do so much more, and could live so much more fulfilling lives if we lived our lives more intentionally.
Living intentionally is all about getting out of ruts, overcoming bad habits, throwing off the shackles that bind many of us to living unremarkable lives. It's about understanding our purpose in life, planning our daily activities so they align with our purpose, and developing the character, habits, and skills to live each day to its fullest.  It's about investing in our own spiritual, mental, emotional, and physical development so that our capacity impact this world continues to grow.
More than anything, I want to see every person to live up to their full potential.
I don't claim to have all the answers, but I am determined to do each day better than the last and share what I learn along the way.  I also hope that by writing about what I learn it will attract those of you who share my passion for bettering their own life and the lives of those around them, you will share your wisdom, and as a result we can help each other take bigger and bolder steps along the journey of life.