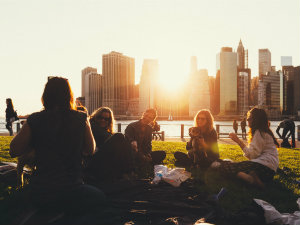 I've got something I'm really excited about and want to share with you…
Over the last year, my eyes have been opened to the gospel of the kingdom of God. This has stirred something deep within my soul.
It started in July 2017 when Frank Viola presented a series of messages about the gospel of the kingdom at the Deeper Christian Life conference. Since then, I've been sharing the gospel of the kingdom in bits and pieces with the followers of Jesus around me. I re-listened to those conference messages again and again.
In June of 2018, Frank's book, Insurgence: Reclaiming the Gospel of the Kingdom, became available. I was on vacation in New York at the time, but I was so motivated to read it, I ordered it the day it came out and had it shipped to my aunt's house because I didn't want to wait get home to start reading it. Insurgence further stoked this fire inside me for Jesus and his kingdom.
What is the Gospel of the Kingdom?
If you're not familiar with Frank Viola and the Deeper Christian Life network, you may be thinking, "What do you mean by the gospel of the kingdom? And why has it had such an impact on you?" I can't begin to answer that here, but go listen to this 1 hour audio message, A Clash Between Kingdoms, and see if the God stirs something inside you too
Beyond "The Network"
I have been a part of the Deeper Christian Life network since Frank Viola launched it about 3 years ago. I love Frank and the Network. They have had a tremendous positive impact on my walk with Jesus. However, I sense there are at least three areas where God wants to work that go beyond what the Deeper Christian Network is currently capable of.
The Deeper Christian Community. One of the best aspects of the Deeper Christian Life conference, was meeting, getting to know and spending time with other people who are totally committed to making Jesus lord of their entire life. One of the biggest shortcomings of the DCL network is that it is very difficult to connect, communicate and interact with other members of the network. My rough guestimate is 90% of the communication is from Frank to the members, 9% of the communication is from the members to Frank, and 1% of the communication is member to member. I sense there is a need for something else that will better facilitate the interaction, community and sharing of ideas among people who want to work together to better understand and live life in the kingdom of God.
Living in the Kingdom. In late July I had the opportunity to participate in the 3rd Deeper Christian Life conference. It was awesome! It was all about learning how to live in God's presence. God did some great things at the conference, and I leaned some new things that will help me in my walk with the Lord. Messages from the 2018 conference are now being published to the Network every other Monday. That's fine, however, I am not finished wrestling with what it means to live my day-to-day life in the Kingdom of God, and I sense I am not the only one.
More Kingdom Voices.  Sometimes when I talk with people about the Gospel of the Kingdom and the Deeper Christian Network, I get looks from people as if they think I've joined a cult. What is this "new gospel" you speak of? Who is this Frank Viola guy? What is this "network?" This doesn't surprise or bother me; the Jewish leaders and Romans thought the same thing of the early Christians.  However, the Gospel of the Kingdom is not Frank's gospel; it's the gospel of Jesus Christ. The kingdom of God is not private members-only network; it's everywhere Jesus reigns and his church gathers. The more voices that are speaking about the Gospel of the Kingdom, the more this movement will spread and the clearer it is that Christ is the head of it.
So, here's what I thinking about doing:
1) Start a "Practical Kingdom Living" Facebook group.
The primary purpose of the group would be to foster relationships among people who are passionate about understanding Christ and his Kingdom and living within it every day. A second purpose would be to foster discussion about "Kingdom living" issues. Members of the group could post questions asking for insight on how to live for Christ and his Kingdom in specific situations or areas of life. A third purpose would be for members to share stories about how rather than "conforming to the patterns of this world" they are living according to Kingdom Principles and how God is working through that, for the purpose of sharing ideas and encouraging others.
2) Start a "Practical Kingdom Living" blog.
One of the major themes of the Gospel of the Kingdom is that the systems of this world are corrupt and evil – the government systems, economic systems, educational systems, entertainment systems, and more. They lead us away from Jesus and a life lived in constant connection with Him. Therefore, kingdom living means disentangling ourselves from the world's systems, breaking our bondage to those systems, so we are free to live the lives God calls us to. This sounds great in theory, but it is extremely challenging in practice.
Have you ever had any of these thoughts?
I really have a passion for helping those in need but I'm just barely making ends meet, after I get done paying all my bills I usually don't have much to give.
I long to experience Christian community as described in Acts 2:42-47, but between work, kids activities, and running a household I can barely squeeze in a couple of hours each Sunday for church. I'm lucky if I have one meaningful spiritual conversation a week.
God's given me a passion to help people struggling with this specific challenge, but I'm dealing with so many of my own problems – work problems, health problems, family problems, relationship problems, I just don't have the energy to deal with someone else's problems as well right now.
I sense God is calling me to leave my current job and do X, but I can't because I'd lose my health insurance.
Each of these thoughts reveals a real struggle – the desire to follow Jesus being held back because of bondage to a system of this world. Often we don't even realize the bondage. We have become so acclimated to our culture, we don't even realize there are alternatives.
The purpose of the Practical Kingdom Living blog would be to challenge the conventional thinking of our culture and share ways to do work, family, education, health, friendships, church, serving, and more according to kingdom principles. These would not just be cool ideas, but real stories from real people who are living "outside the box" and want to share with us the path they took to get there. I use the term "blog" loosely. The format could be text, a podcast, videos, interviews, any or all of the above.
Does this resonate with you?
Before I embark on this journey, I want you to know I'm not interested in doing this alone. I want to know if there are others who want to come with me and explore what it means to live in the Kingdom of God every day. If this is something that resonates with you, put your name and email address in the form below so I can send you an email when it launches.
I also want to see if God is in this. If only a handful of people express an interest, then maybe I'll chalk up my excitement for this to too much coffee. But if there is a wave of people interested, then it's a good indication this is headed in the right direction.
3 Things You Can Do to Help
Subscribe above
Share this via Facebook, Twitter, or email with people you know who want to learn how to practically live out the gospel
Post a comment and tell me what's one thing that makes it difficult for you to live out your faith.
And if you've got any questions about any of this, post them in a comment too. Excited to begin this new journey with you!