How to Create a Strong Family Identity That Helps Children Overcome Peer Pressure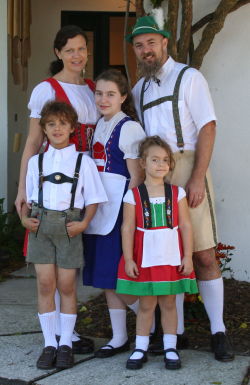 My 3 children are in elementary school, but they're already being faced with peer pressure to do things that go against the values my wife and I are trying to instill in them. As they get older this pressure will only intensify.
Each time my kids have to choose between our values and their peers, the choice comes down to a matter of identity. Do they see themselves as a valued part of our family? Or do they want to fit in with a group of other kids so badly that they'll choose to follow the crowd?
There are many great things parents can do to strengthen family bonds – family game night, making time to talk, scheduling one-on-one time with each child, to name a few. But creating a family identity goes beyond that.
This past Saturday, our family hosted our 14th annual Oktoberfest. We have 70-100 friends and family over for German food, music, games, and yes, beer. It's a big deal for our family. We spend several weeks getting the house in order, fixing up the landscaping, decorating, and preparing food. As our kids have gotten older, they've been able to help more and more each year with the preparations.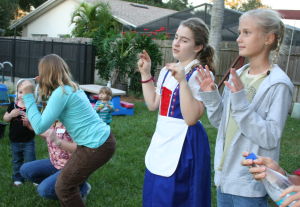 Jim Burns of the HomeWord Center for Youth and Family writes
A strong family identity also helps children develop a strong and healthy self-identity. Knowing what makes their family unique — traditions, values, and ways of relating to one another — gives children a clear starting point for discovering their own place in the world. Studies even show that kids who identify with their family's values tend to be less promiscuous and face less risk of drug and alcohol abuse.
You don't have to dress your family up in silly outfits every year to create a unique family identity. But it usually takes some intentionality and a willingness to create some routine.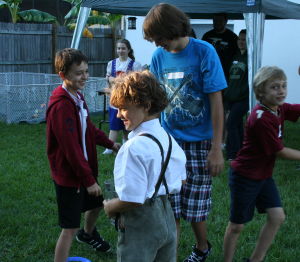 Here are 8 ideas that can help you create a stronger family identity.
Find a restaurant everyone in your family likes and eat there regularly. (We are Chilis fans)
Find an activity everyone in your family likes to do and do that regularly. (Currently, it's geocaching for us)
Create holiday traditions.
Vacation in the same place on a regular basis.
After memorable family events like vacations, create scrapbooks. Scrap booking together as a family could even become one of your family traditions.
Create a family quote book where you write down funny things family members say.
Create a family flag together. They do that every season on the TV show Survivor to build tribe unity. Why not do the same thing to create family unity?
Schedule a regular family devotional time where you pray and read the bible together as a family.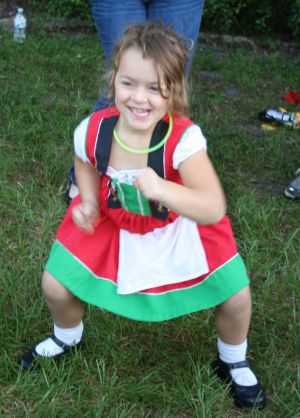 What are you doing or want to start doing to create a stronger identity for your family?