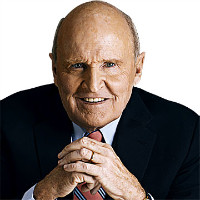 Said to be the most studied CEO of the 20th century, Jack Welch began his 41-year career with the General Electric Company in 1960, and in 1981 became the company's eighth chairman and CEO. Fortune named him "manager of the century," and the Financial Times named him one of the three most admired business leaders in the world. He teaches at MIT's Sloan School of Management and recently launched the Jack Welch Management Institute at Chancellor University, offering advanced management degrees online. A prolific business writer, he authored the internationally best-selling autobiography, Jack: Straight from the Gut and also wrote The Welch Way, a widely read BusinessWeek column.
Notes
Bill: when I think of Jack Welch I think of 4 words authenticity, energy, candor, differentiation
Authenticity

Have to be yourself.
People want to know you're a person they can count on.
In business people take on a persona that is not themselves. They think they have to be a certain way.

Did you look for authenticity when hiring?

Sure, but you don't always see it.

Energy

You've got to energize the people around you.
If you're full of energy and jumping around, it doesn't help anyone.

How do you energize people?

Engage them.
Tell the story, so others will join you.
Not hyping them.
It's basically getting them to feel the vision.
The job of a leader is to draw out the people around you who are starter than you.
The crazy thing about insecure people is they hire dopes.
Finished the day asking what people got out of the day.

Candor

We fought desperately to really get what people are thinking on the table.
Less bureaucracy, less meetings, just say what you think.

Differentiation

At GE there was a ranking of staff as the 20%, the vital 70%, then there was the bottom 10%.
Some people say that's a heartless way to differentiate people and treat them differently.
Do you think sports teams differentiate?  Do you think the teams with the best players usually win?
You have to have a real appraisal system (candor) to differentiate.
It's critical that the people who work for you know where you stand.
In every organization, everyone knows who rates where.
Most organizations spend too much time focusing on the lowest 10%.
You've got to get out of the bottom 10% or move on.

What are the A players like?

Good values, good people…
They have a gene that says I love to see people grow. I love to reward people.  They get a kick out of giving a bonus and seeing their people promoted.  They celebrate their people. They have generosity.
Insecure people hide their best people.
A players don't have envy.

Describe B players?

Hard working but maybe not as gifted.
The top of the 70 and the bottom of the 70 was a world of difference.
You run the risk of losing the 21-26 percentile.
You have to say, "this is a snapshot in time. You'll have a chance to move up. Here's how."
Here's what I like about what you're doing. Here's what you can do to improve.
Don't write a new appraisal, write over the old one.

What characterizes the bottom 10%

Not a team player, low energy, acidic, pain in the arm.
Nothing is worse than negative energy.
They're disruptors, antagonizors.

Could you have built GE without paying big salaries and bonuses?

I wouldn't have wanted to.
People choose to work in the church.

What's your biggest failure?

In the early stages when people thought I was tearing things apart, I should have moved more quickly.
Part of your job as a leader is to help people become more confident.

Speak about finding a successor and making the transition.

Started 8 years before he was going to retire. Had 22 candidates.
8 years later got down to 3 and they were all the long-shots
Jay Leno/Conan O'Brien fiasco was caused by making the choice 5 years in advance when people change.
I don't think you ever know how someone is going to behave at the next level.
Need a rigorous process, involve a lot of people.

Celebrations

The hardest thing we could get to happen was to get managers to celebrate small victories.

Jack was in the hospital for 104 days, got a staph infection from a shot.
Jack sent Bill an email saying "toss one north for me" (an ask for prayer). Did the time in the hospital open you up to things of God?

I love this church.
Bill: I sense an openness to the next step in the journey. Jack: yes.

Bill: I think the next phase of your life will be your most impactful.
Bill: Never, ever, ever give up on somebody. Everyone of you has people in your life that you know great things would happen through them if God got ahold of them. We're here to keep praying and probing and contacting people to see what God might be up to.